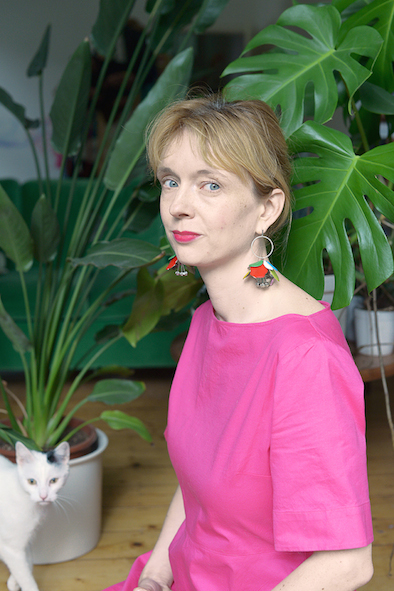 Aneta Rostkowska
Aneta Rostkowska is a curator, researcher and writer, a graduate of de Appel Curatorial Programme in Amsterdam. Currently she is a director of Temporary Gallery Centre for Contemporary Art in Cologne. Rostkowska studied philosophy, economics and art history in Kraków, Poznań, Heidelberg and Frankfurt am Main. From 2005 to 2016 she taught art theory, art history, philosophy and logic at various academic institutions in Kraków and Szczecin. From 2011 to 2016 she worked as a curator at Bunkier Sztuki Gallery of Contemporary Art in Kraków. From 2016 until 2018 she worked as a curator at the Academy of the Art of the World in Cologne. In 2013, together with Martyna Niedośpiał, she edited a book on the interrelations between art, activism and ecology based on the works of Kraków's artist Cecylia Malik. In 2015, together with Virginija Januškevičiūtė, she curated A Million Lines, an exhibition based on a short story of China Miéville, a part of XII Baltic Triennale, accompanied by a Polish translation of Kristupas Sabolius' book Proteus and the Radical Imaginary. Since 2017 she teaches at the Heinrich-Heine-Universität Düsseldorf.
Exhibitions and art projects she curated and co-curated include: Floraphilia. Plants as archives (Academy of the Arts of the World, Cologne, 2018), Breach! (Extra City, Antwerp, 2018), All Mounds Can Be Seen From My Window (Bunkier Sztuki, Kraków, 2016), Alicja Rogalska. Cultivation (ArtBoom Festival, Kraków, 2015), Father, Can't You See I'm Burning? (de Appel arts centre, Amsterdam, 2014), Jan Simon, Jakub de Barbaro. Operation Glazier (ArtBoom Festival, Kraków, 2013), Cecylia Malik. City Reserve (Bunkier Sztuki, Kraków, 2013), Magda Buczek. Justina & co.uk (Nova Art Gallery, Kraków, 2013), Kuba Woynarowski. Ha-ha (Zbiornik Kultury/Bunkier Sztuki, Kraków, 2012), Łukasz Skąpski. Farewell? Machines – Podkarpacie (Zbiornik Kultury/Bunkier Sztuki, 2012), Bartosz Kokosiński. (Dis)order of Things (Bunkier Sztuki, Kraków, 2012), Mateusz Okoński. Purification (ArtBoom Festival, 2012), Łukasz Surowiec. Happy New Year (CCA Kronika, Bytom, 2011), Umschichten. Kiss (National Museum, Kraków, 2010).
In 2014 Aneta Rostkowska received a Young Poland scholarship of Polish Ministry of Culture and National Heritage.
---
Agenda
Forms of Kinship: Daddy Residency
Online artist talk & workshop over alternatieve verwantschap
Female Voices: Blood, Witches and the Red Lightning Strikes
Online panel: Artistieke activisme tegen Poolse anti-abortus wet