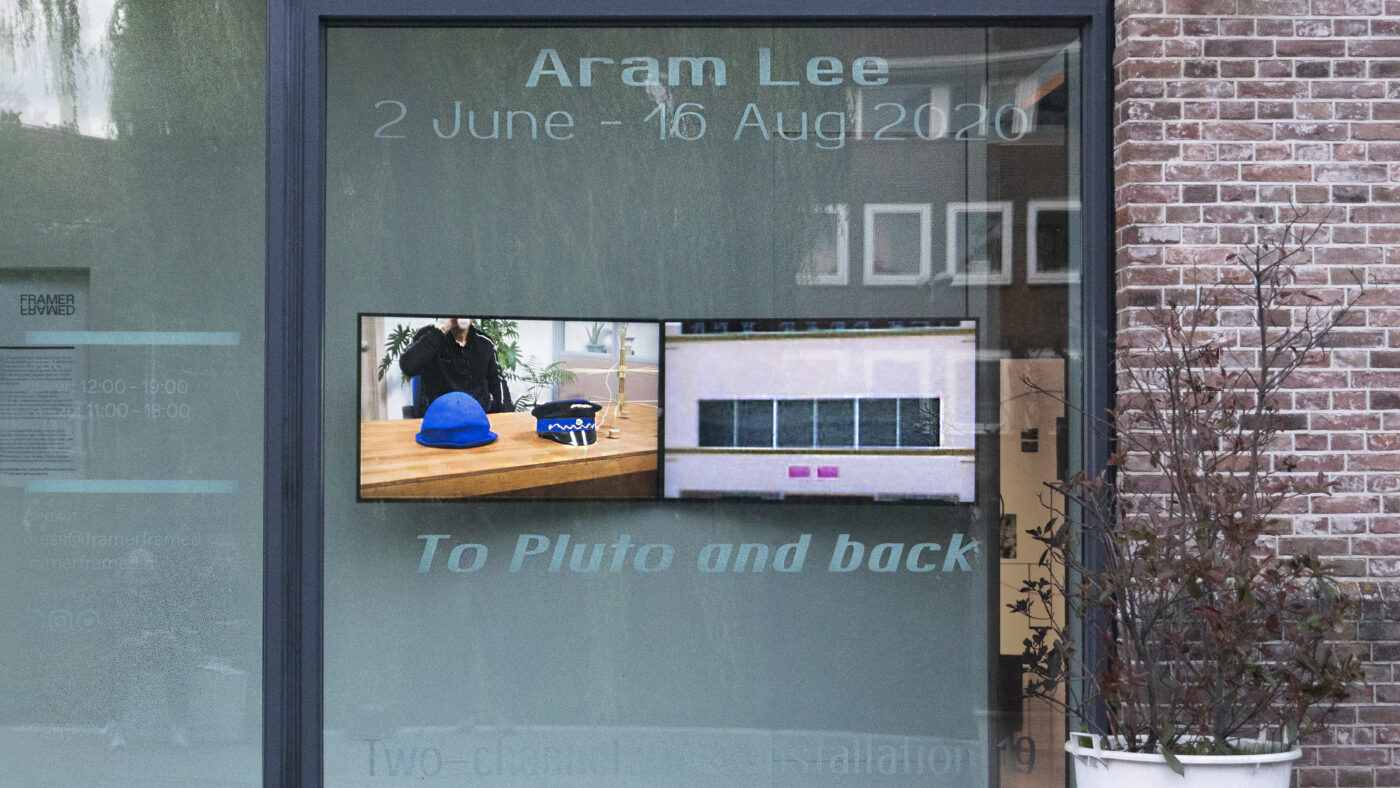 2 Jun –
16 Aug 2020
To Pluto and Back
Aram Lee's video installation To Pluto and Back will be on display as part of Unlocked/Reconnected initiated by several art organisations in solidarity with the art scene after the lockdown. The work can be seen safely from the outside of the Framer Framed building, from the 2nd of June until the 16th of August.
---
To Pluto and Back (2019)
Two-channel video installation, 19'.
To Pluto and Back is the outcome of Aram's archival project where she travelled from the US to South Korea. She started the project as a way of confronting the one-dimensional image that the rest of the world has of North Korea's capital Pyongyang, particularly as the place is sealed, locked and inaccessible. Aram met the former residents (refugees) and interviewed them while being surrounded by objects materialised from the digital archive (a blue hat, lamps, desks, tables, computers, and chairs). This showed the renderings for what they were and are: rhetoric.
The film consists of two parallel video channels, one showing a speculative place and the other its imagined people. The work offers a portrayal of an untouchable place. Its existence and virtual characters become speculation, as they come from such a sealed space. The portraits of two different locked spaces convey the long journey that could imagine their opening.
Aram calls attention to the dominant, singular narrative of an inaccessible place, constructed through institutional archives and absent of human description. In her dynamic archival journey, she challenges the political representations of a 'locked' place through the renderings of buildings, model guns, skies, and surveillance monitors. Friction arises between the footage and the North Korean refugees when they are confronted by their speculatively rendered homeland. By interweaving dialectical images, the video reflects a reality devoid of life and held at a distance.
To Pluto and Back asks for an enlargement of what it means to be 'cut off'. The tensions between presented images and a closed world outside us forms an intangible situation, both in North Korea and worldwide. In this way, the work creates connections with today's society in which everyone is to some greater or lesser extent, disconnected.
---
Unlocked/Reconnected brings together a wide range of 'houses for art': museums, institutes for presentation, galleries, artists' initiatives and corporate collections. The point of departure for Unlocked/Reconnected is the idea of solidarity, the will to reflect collectively on what home is. Our world must not become fragmented, fractured into enclosing walls: a consolidation of forces and locations, national and international, can in fact show us what the house/home can mean. As an initiative Unlocked/Reconnected stems from a sense that opening up the home, in the aftermath of the lockdown, will force us to reconsider our outlook on this. Unlocked/Reconnected underlines the importance of art and culture in this period of global crisis.
Unlocked/Reconnected is a cooperation between Annet Gelink Gallery (Amsterdam), Centraal Museum (Utrecht), De Nederlandsche Bank (Amsterdam), De Pont (Tilburg), Frans Hals Museum – Hal (Haarlem), Galerie Fons Welters (Amsterdam), Het Hem (Zaandam), Kunsthal (Rotterdam), Marres (Maastricht), Martin van Zomeren (Amsterdam), Museum Kranenburgh (Bergen), the Stedelijk Museum (Amsterdam) and Framer Framed (Amsterdam).
Amsterdam Oost
/
---
Network