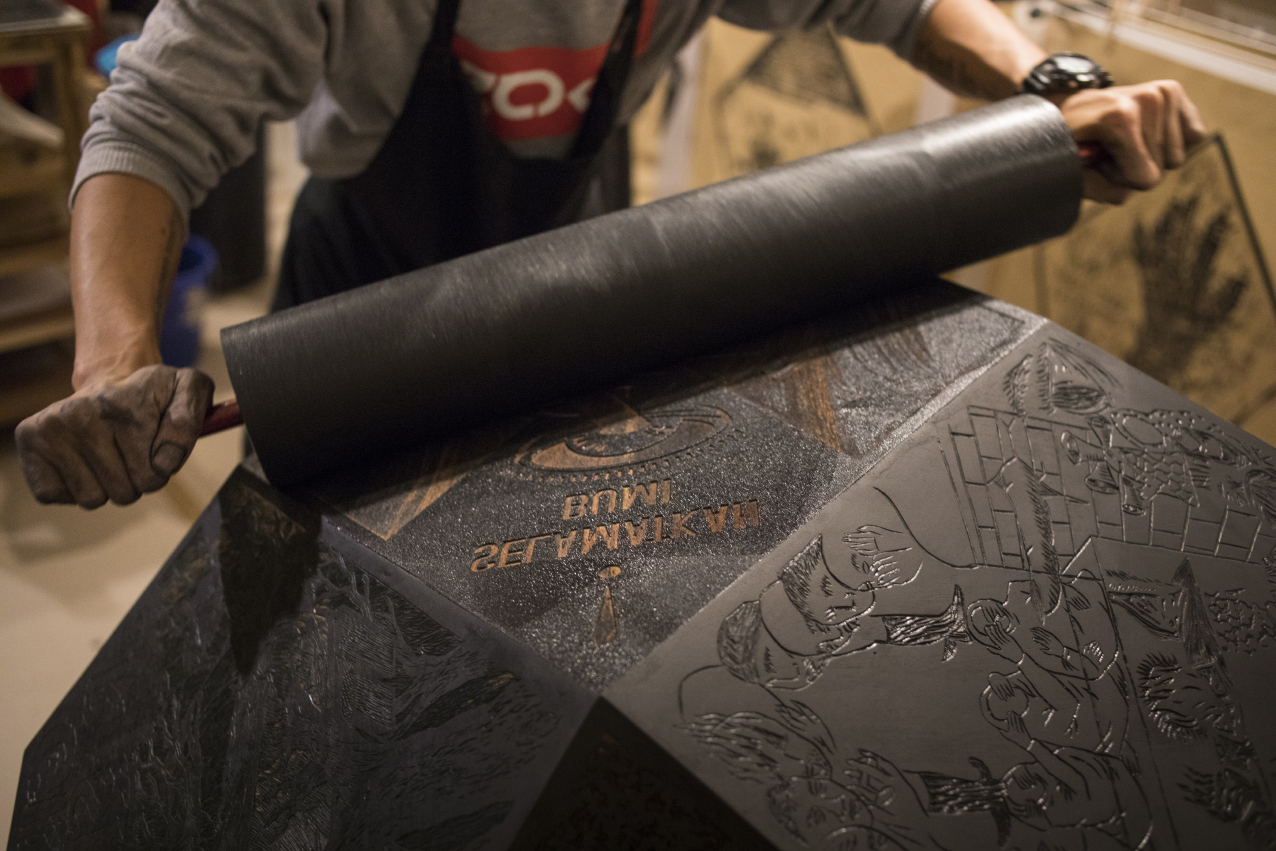 14 Apr –
1 May 2018
Printing sessions Pentagonal Icositetrahedron
Dates
Saturday, 14 April     – 13:30 – 17:00
Tuesday 17, 24 April – 13:30 – 17:00
Tuesday, 1 May         – 13:30 – 17:00
The artwork Pentagonal Icositetrahedron (2017) by artist Kevin van Braak formed the starting point of exhibition Pressing Matters (29 March – 27 May 2018). This wooden spherical object has 24 sides, with 24 different carved designs, each contributed by a different artist. They were commissioned by Van Braak during his 2017 residency at Cemeti – Institute for Art and Society. Like a prism, the sphere reflects varying personal, activist statements, that not only overlap but also literally form one whole. The woodblock designs are printed and displayed in the exhibition, as well as given away to visitors.
For the artists, spreading their activist statements is crucial. Therefore they are not being sold but given away for free. The prints cannot be (re)sold – each print features a stamp that states 'No Commercial Value'.
The blockprinting is a manual, laborious process. During the course of the exhibition there will be several printing sessions where new prints are produced and added to the exhibition. If you are interested in obtaining a specific print and/or watching the printing process, mark down these dates in your calendar (please note that the prints need to be dry before you can take them home!)
The printing sessions will for the most part be run by Jean Carlo Medina. Jean is a specialist in generalities, currently studying an MA in Museum Studies at the University of Amsterdam. He has previously worked as an artist, and co-founded the ephemeral art-space Terminal 205 in Cholula, Mexico. He currently works as an intern for Framer Framed.
Indonesia
/
Art and Activism
/
---
Exhibitions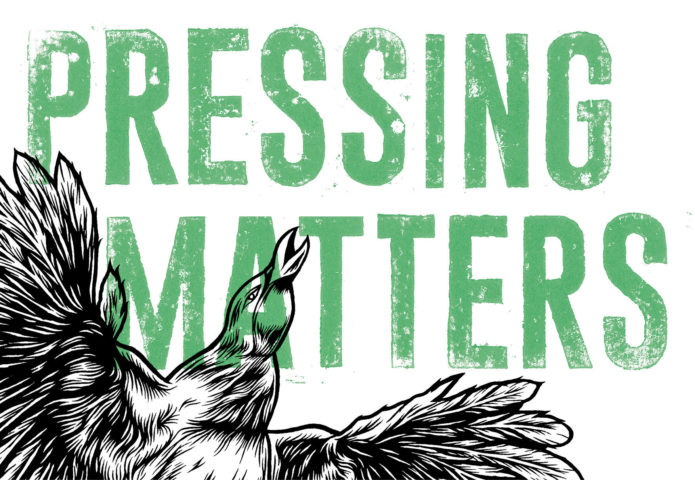 Exhibition: Pressing Matters
Featuring 24 Indonesian artists brought together by artist Kevin van Braak
---
Network