3 Apr 2012 – 14:00
Framer Framed Expertmeeting
April 3, 2012 Museum voor Moderne Kunst Arnhem Utrechtseweg 87 6812 AA Arnhem Netherlands t +31(0)26 377 53 00 e info@mmkarnhem.nl
---
Following the solo exhibition of Shilpa Gupta and the exhibition Vlisco: Six Yards Guaranteed Dutch Design Framer Framed organizes, in collaboration with the Museum of Modern Art Arnhem an expert meeting. The three members of the artist collective Suze May Sho who curated the Vlisco show, Rosell Heijmen, Connie Nijman and Jessica Helbach, will be participating in the workshop.
Special guest of the meeting is Shaheen Merali. Merali is a curator and writer living in London. From 2003-2008 he was head of exhibitions, film and new media at the House of World Cultures in Berlin. He was curator of the exhibition include The Black Atlantic; Dreams and Trauma-Moving Images and the Promised Lands, and Re-Imagining Asia, One Thousand Years of Separation. In 2006 he was co-curator of the sixth Gwangju Biennale, Korea. After two years of research, in 2012 he will curate a major exhibition whose art works come from the International Collection Birla, Birla Academy of Art and Education in Calcutta, India
He wrote many essays on individual artists such as Ahmed Alsoudani, Ramesch Daha, Shilpa Gupta, Reena Kallat, Jitish Kallat, Leena Kejriwal, Riyas Komu, Madforreal, Lisl Ponger, Prasad Raghavan, Sara Rahbar, Sumedh Rajendran, Peter Ried Linger, NN Rimzon, TV Santhosh and Ulrich Volz.
The previous expert meetings organized by Framer Framed where hosted Prof Howard Morphy and Prof Daniel Rycroft. Howard Morphy is professor of anthropology and director of the Research School of Humanities and the Arts at the Australian National University. Daniel Rycroft, working at the University of East Anglia. is co-founder and editor of the magazine World Art and Imperial Inhibitions publication that focuses on the interfaces of contemporary art, postcolonial theory and cultural museology.
---
Network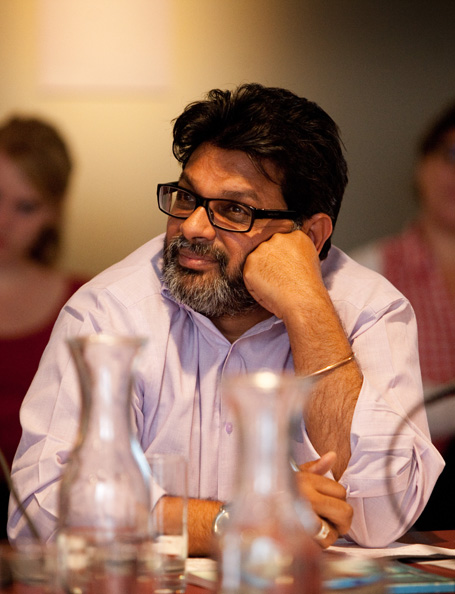 Shaheen Merali
Curator, Author, Artist
---
Magazine