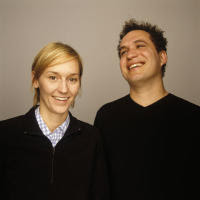 Jennifer Allora and Guillermo Calzadilla
Jennifer Allora (Philadelphia, Pennsylvania, 1974) and Guillermo Calzadilla (Havana, Cuba, 1971) have been working together since 1995 and try to make people aware of the consequences of globalization and industrialization through their work. They were the United States Representatives for the 54th Venice Biennale International Art Exhibition (2015).
Jennifer Allora was born in Philadelphia, Pennsylvania, in 1974. Allora received a BA from the University of Richmond in Virginia in 1996 and an MS from the Massachusetts Institute of Technology in 2003. Guillermo Calzadilla was born in 1971 in Havana, Cuba. He received a BFA from Escuela de Artes Plásticas, San Juan, Puerto Rico in 1996 and an MFA from Bard College in 2001.
Allora and Calzadilla approach visual art as a set of experiments that test whether ideas such as authorship, nationality, borders, and democracy adequately describe today's increasingly global and consumerist society. They work through various mediums, such as audio, performances art, sculptures, social interventions, and videos. Their work questions the possibility of having more than one mode of existence, being of doubtful nature, and existing in more than one particular realm. Conceptually, they assert singularity through interdependence, holding onto relation proximities and distances.
Allora & Calzadilla's work has been featured in solo and group exhibitions internationally. Notable exhibitions include All the World's Futures, curated by Okwui Enwezor at the Venice Biennale (2015), Intervals, curated by Carlos Basualdo and Erica F. Battle, at the Philadelphia Museum of Art and the Fabric Workshop and Museum (2014), the group show Costume Bureau (2014) at Framer Framed in Amsterdam, dOCUMENTA 13 (2012), curated by Carolyn Christov-Bakargiev.
Their work has been exhibited in solo and group exhibitions in venues such as the Museum of Modern Art (2009), National Museum of Art, Oslo (2009), Haus der Kunst, Munich (2008), Serpentine Gallery and Whitechapel Art Gallery, London (2007), Les Rencontres d'Arles festival, France (2008), Stedelijk Museum in Amsterdam (2008), Kunsthalle Zurich (2007), and the Renaissance Society, Chicago (2007). Allora & Calzadilla also participated in the 5th and 7th Gwangju Biennale (2004 and 2008).
Jennifer Allora and Guillermo Calzadilla participated at the group show Costume Bureau (2014) at Framer Framed with the video work Amphibious (Login-Logout) (2005). The short film follows a group of turtles sitting on a log as it floats along China's Pearl River Delta. Amphibious cuts between close shots of the turtles and distanced views of the river's shore, where industry dominates. We watch as people and cars pass swiftly, as cranes and barges move massive shipping containers.
Allora and Calzadilla situate the viewer in the perspective of the turtle; the industrialised environment in turn becomes strange and foreign to us. Through this perspectival aligning, we are made to think of the interconnected relationship between the industrial and the natural. The turtle and the river, who undoubtedly felt the effects of human action on their habitats, bodies, and behaviours long before we began to account for it.
---
Exhibitions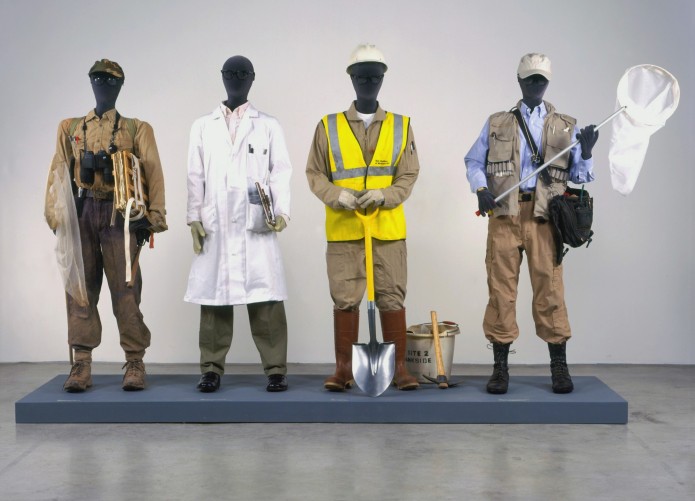 Exhibition: Costume Bureau
A collection presentation of Museum Het Domein, curated by Roel Arkesteijn
---
Magazine