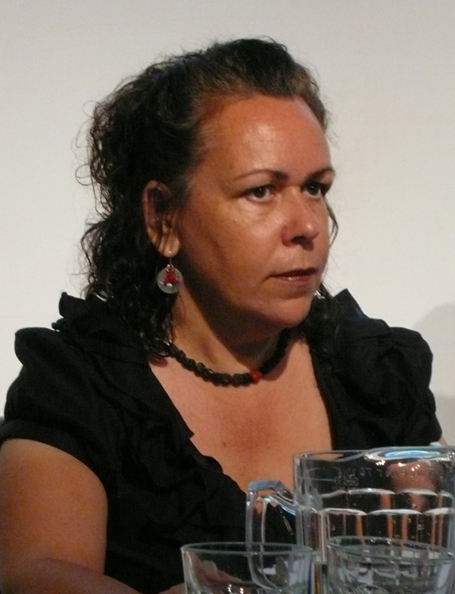 Fiona Foley
Fiona Foley is a contemporary Indigenous Australian artist from Badtjala, Fraser Island, Queensland. She is a sculptor, installation artist, painter, printmaker, photographer, public artist, curator, lecturer and public speaker.
Her work reflects her life history as an indigenous woman growing up in regional Queensland, which remains central to her sense of identity. For Foley, the political and the personal are not separate entities. Her lifestyle and art reflect a commitment to her Aboriginal identity and challenge Australian society to reread history to reveal moments of strength and empowerment. Her art works often speak of the untold and hidden histories of Australia in terms of the colonial interaction with Aboriginal people. Foley was a guest speaker for the panel discussion Indigenous Art Now! on 28 June 2011, organised in collaboration with the Australian contemporary art magazine Artlink, the October Gallery and Framer Framed.
Foley studied at the Sydney College of the Arts and during her degree, in 1986, already sold her installation piece Annihilation of the Blacks to the National Museum of Australia. Since winning the commission of the Historic Houses Trust of New South Wales in 1994 to work on the installation The Edge of Trees situated outside the Museum of Sydney, Foley has become known as a successful public artist. She has since been the commissioned artist for other public art projects including, The Lie of the Land, 1997 at the Melbourne Museum and Witnessing to Silence at the Brisbane Magistrates Court in 2004. This last work incorporates ash, etched pavement stones, water and bronze. It speaks of the numerous massacre sites of the Aboriginal people in Queensland and the systematic covering-up of these atrocities. Black Opium (2006, State Library of Queensland) speaks of Queensland's 'Aboriginal Protection and Restriction of the Sale of Opium Act 1897' in which the supply and sale of opium to Aboriginal people was stringently legislated against alongside the recommendations to establish Reserves in which Queensland Aboriginal people were forcibly removed to.
Apart from her own work, Foley also helped establish the Boomalli Aboriginal Arts Cooperative in Sydney along with a group of prominent and politically active Aboriginal artists, such as Michael Riley and Tracy Moffat. Boomalli's aim was to promote the work of Aboriginal artists who did not live in the remote areas of Australia or were supported through federally funded arts centres. Boomalli went on to become the launching pad for many now successful artists besides the founding members.
Nowadays, Foley is one of Australia's successful international artists whose work is often included in important group exhibitions such as Global Feminism, 2007 at the Brooklyn Museum in New York City, USA or solo shows such as Strange Fruit, 2006 at the October Gallery in London, England. Other exhibitions of hers include Forbidden at the Museum of Contemporary Art in Sydney and The University of Queensland Art Museum in Brisbane, and Nulla 4 Eva in Melbourne. Her work is part of collections of museums in Australia and elsewhere in the world.
---
Agenda
Indigenous Art Now!
Forum and launch for Artlink Indigenous.
---
Magazine