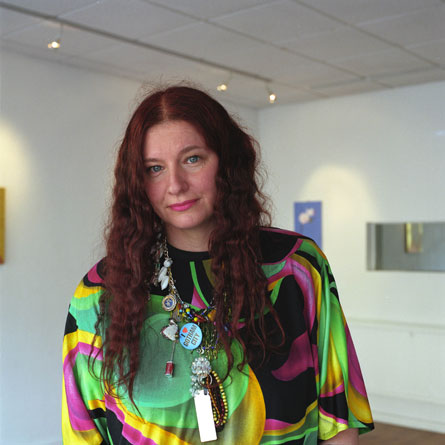 Delaine Le Bas
Delaine Le Bas (b. 1965, United Kingdom; lives and works in various locations within the UK and across Europe)
Delaine Le Bas is an English Romani Gypsy. She studied at St Martins School of Art London for her Masters Degree. She works within the field of media including installations, drawing, performance, film, photography and sculpture.
Her work deals with issues of exclusion, identity, stereotypes, untold histories, misrepresentation, gender and being the 'other'. As a Romani Gypsy she approaches the notion of the body as a stolen artefact and contested space. Clothing and textiles, especially in their cultural, symbolic and identifying qualities, are strands she addresses notably in terms of the stereotypical and political ideas they convey. Costumes in particular play a major role within her performative practice, while fabrics are significantly present within her large detailed installations.
A key part of Delaine's practice is her site-specific approach: visiting, digesting, filling and occasionally inhabiting the spaces where her work will be shown, she uses locally salvaged materials where possible. This leads to varied cross-media outcomes and frequently to situation performances outside the gallery environment. The essence of a place where a work has been created is of primary importance. Its history, contested spaces, and local materials are reflected in a "bricolage" practice across various surfaces, media, times and places.
SOLO EXHIBITIONS (selection)
 2015
Roma Body Politics III: Say No To Identity Theft
Gallery8, Budapest, Hongarije
2014
Local Name: Unknown Gypsies?
Phoenix, Brighton, United Kingdom
To Gypsyland
Bolton Museum and Art Gallery, Bolton, United Kingdom
2013
To Gypsyland, A Studio Practice and Archive Project
Metal, Peterborough, United Kingdom
GROUEP EXHIBITIONS (selection)
2015
Basket Case II
National Gallery of Zimbabwe, Bulawayo, Zimbabwe
2014
Basket Case II
National Gallery of Zimbabwe, Harare, Zimbabwe
Navigations, Urban Dialogues
Red Gallery, Londen, United Kingdom
Sites of Collective Memory
CGP, Londen, United Kingdom
Portrait of The Artist, Delaine Le Bas and Tara Darby
Transition Gallery, Londen, United Kingdom
To Gypsyland
198 Contemporary Arts & Learning, Londen, United Kingdom
Akathe Te Beshen – Heir Um Zu Bleiben
Kunststation, Kleinsassen, Germany
Have A Look Into My Life!
Aubette, Straatsburg, France; Stadtmuseumgraz, Graz, Austria
Safe European Home?
MART, Dublin, Ireland
Tajsa
BMW, Tarnow, Poland
2013
Safe European Home? No: 5
Berliner Herbstsalon, Gorki Theatre, Berlin, Germany
Safe European Home? No: 4 Past, Present, Future
Galerie Kai Dikhas, Berlin, Germany
Other Sisters: Dialogue with Iwona Zajac
Gdanska Galeria Miejska, Poland
Houses as Silver as Tents
Zacheta National Gallery of Art, Warschau, Poland
Me, You and The Others
Savoy-teatteri, Helsinki, Finland
Safe European Home? No: 3
The Dandelion Project, Trane Udstillingen, Kopenhagen, Denmark
Safe European Home? No:2
CHB, Berlin, Germany
Video.Art.Activism.
Galerie Kai Dikhas, Berlin, Germany
---
Exhibitions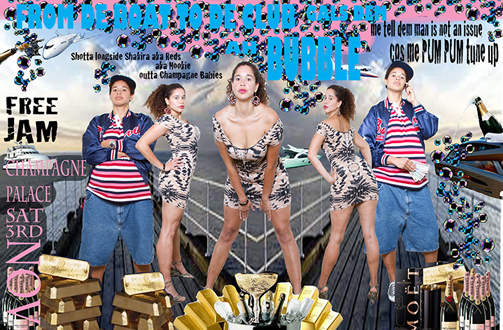 Exhibition: Embodied Spaces
An exhibition curated by Christine Eyene on the body, gender and identity.