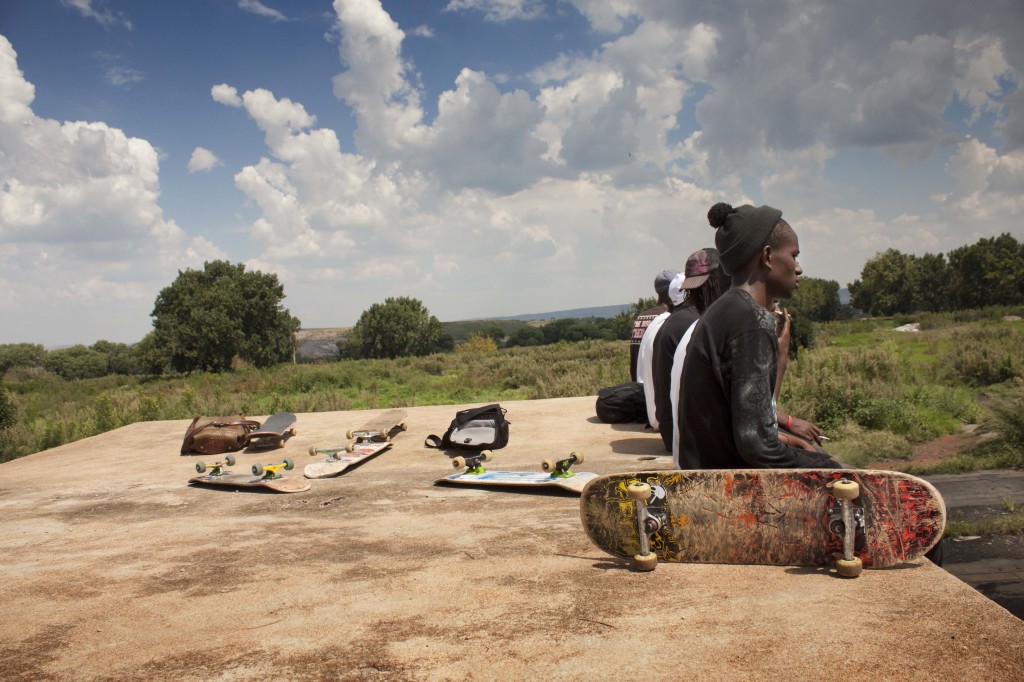 8 Apr –
31 May 2016
Exhibition: Society by Akona Kenqu
Framer Framed is pleased to announce the opening of a new exhibition, Society (2016), in collaboration with Market Photo Workshop, a South-African institution for emerging photographers. Society is a project by Akona Kenqu, the first recipient of the Women In Photography Mentorship program, created by the Market Photo Workshop in 2012.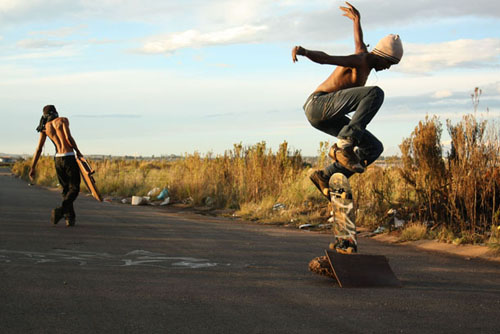 Society by Akona Kenqu
Akona Kenqu was part of the Women in Photography Mentorship 2012 program of Market Photo Workshop, during which she worked on her Society project. With Society Akona Kenqu explores the lives and roles of skaters in contemporary South Africa. Seeking spaces of refuge, of expression and of conflict, Kenqu considers the ways in which young black skaters, Skate Society Soweto (or SSS) in particular, figure their environments and define their belonging. Some of these spaces are made for skaters; many of them are created and appropriated. Some of the spaces are personal, already owned, and from the objects and aspects of these spaces a connection is developed to what it means to be a skater and how this meaning is fashioned. Kenqu is interested in challenging the stereotypes of skaters and skate culture, and in figuring the roles of relations, connections and socialisation  of the people who call it their own.

"My interest to do this project started in 2009. I did a body of work then titled Kick, Push and that was somewhat of a build up to Society. I photographed these guys skating and I also documented their daily activities that were not so "skater"… so yeah the mundane moments and also the really exciting stuff. 

I don't worry about things like male dominated whatever's. I'm a photographer and that's what I care about in my profession. I think if I worried about such then I would never actually get to do what I really love. I sometimes get people saying "Oh I thought a guy photographed this" but then what does that mean? I am always left a bit puzzled because what is it to photograph like a woman or a man?"

[Source: Akona Kenqu, in conversation with Belinda Kholeka Shange]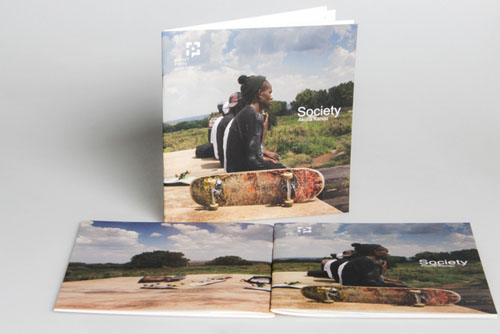 ---
About Market Photo Workshop
The Market Photo Workshop is a Johannesburg-based school of photography, gallery and resource centre for practicing photographers. The Market Photo Workshop was founded in 1989 by world-renowned photographer David Goldblatt. He envisioned the workshop environment as a space to provide further education in visual literacy and photography practice to disadvantaged learners during the reign of the previous regime. Ever since Market Photo Workshop has established itself as an important training institution for South African photographers who otherwise have no access to photography.
For over 20 years, the Market Photo Workshop has played integral role in the training and growth of photography through exhibitions, public debates and collaborative projects, in oder to respond to the complex backgrounds of education, culture, and identity of South African society. Many of the alumni of this institution have changed and transformed the landscape of contemporary South African photography.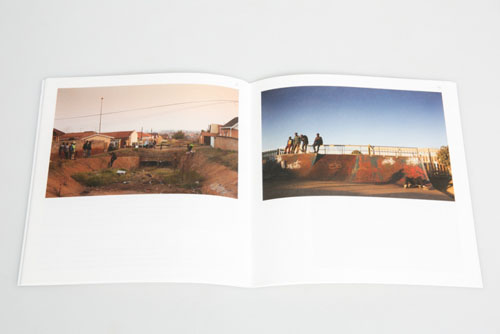 Brief history
Market Photo Workshop's initial focus was on social documentary photography, a genre which would provide photographers entry into the media landscape, allowing them to create a viable career for themselves as well as an important strategy in documenting the socio-political landscape of apartheid South Africa.
Since then, Market Photo Workshop has successfully adapted to the challenges of a new democratic dispensation, and the influences democracy has had on visual arts in South Africa. The school now offers formalised short and long courses in photography, educating learners in all technical and practical aspects of the medium. As an addition to the training functions of the Market Photo Workshop, a gallery space was launched in 2005 called The Photo Workshop Gallery, which forms the entrance to the offices and classrooms.
Complementing this practice, Market Photo Workshop has initiated a schedule of public programmes and development initiatives that have become not only a secondary strategy of training for students who are involved in these projects, but also a way of creating viable and tangible transformation and development opportunities that engage with a greater community within society. The Photo Workshop has run projects that engage with issues such as heritage and women's rights that seek to impart real skill sets and opportunities to communities.
Women In Photography Mentorship
The projects division of Market Photo Workshop also facilitates a number of fellowship, mentorship and internship opportunities for students and alumni of the Photo Workshop, enabling a platform for the creation of careers in the photography industry. Among these, the Women In Photography Mentorship has been created to afford a woman photographer a grant and mentor's guidance to produce a body of work, aimed at growing the presence of women photographers in the photography industry. The mentorship is a training program that is uniquely equipped to provide a platform to raise the issues that women face and brings together an advisory group of women to guide and share with the recipient.
Akona Kenqu is the first recipient of the 2012 Women In Photography Mentorship and was mentored by Nadine Hutton.
Photography
/
South Africa
/
---
Agenda
Akona Kenqu - photography series Society now for sale
The photography series Society by Akona Kenqu (ZA) has been exhibited at Framer Framed from March-May 2016.
International Women's Day at Framer Framed
Opening exhibition Society and lecture by Chandra Frank.
---
Network