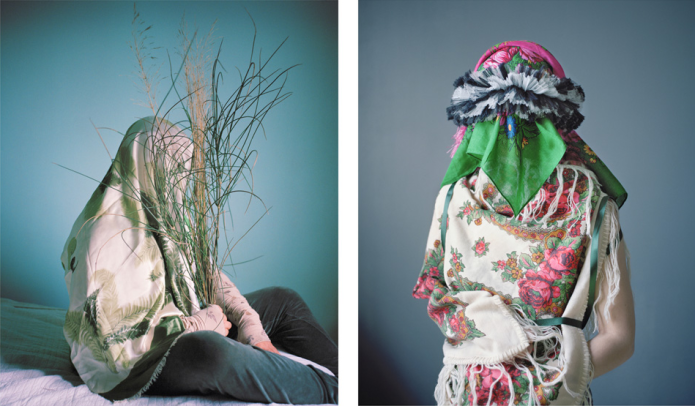 25 May –
19 Sep 2017
Hallway exhibition: Heritage
Framer Framed presents: Heritage, a photography exhibition by artist Marie Hudelot (1981, Paris). The exhibition is on view in the hallways of the Tolhuistuin, from 25 May 2017. In her body of works, Hudelot questions notions of cultural identities, driven and inspired by her own French-Algerian mixed background. Heritage is part of her trilogy on identity, which also includes the series Native and Devotion. For this trilogy, Hudelot developed imaginary archetypes based on the unwritten stories told by her ancestors.
The Heritage series is a group of symbolic portraits that display masked characters, based on the artist's family. Here, unlike in classic portraits, natural elements and various ritual objects from different rites and customs take over the visual space usually occupied by the individual. Objects such as jewels, feathers, branches, flowers, hats and decorative ribbons symbolize different concepts, including seduction, femininity, youth, memory, struggle, life and death. By playing with the accumulation of symbols and with the abundance of accessories, the subjects become still life-like totems or family crests. With this, the artist aims to explore the workings of heritage transmission, and depict the complexity of family legacies. The photographs can be grouped into three symbolical categories. Firstly, there is "traces of nature"; which includes elements of uncultivated land, rough nature, and flower arrangements, evoking death and rebirth. Secondly, there is the "fight"; which is a reinterpretation of the various struggles and honors of war. Thirdly and finally, there is the concept of "femininity" located in the context of both French and Algerian cultures; sometimes understood as a dichotomy, sometimes as a sign of diversity.
Hudelot studied Photography and Media at the University of Paris 8. As a photographer she has worked with numerous designers, artists, news agencies, and advertising companies. She was a finalist for many prestigious prizes like the HSBC Photography Prize in 2015. Her personal work has been shown in several European festivals and galleries, and has been widely published in the international press. Hudelot's earlier work started with an exploration of her own identity and heritage, whereas her current area of research has expanded to focus on contact between different cultures around the world, experimenting with the notions such as cultural hybridity.
---
Network