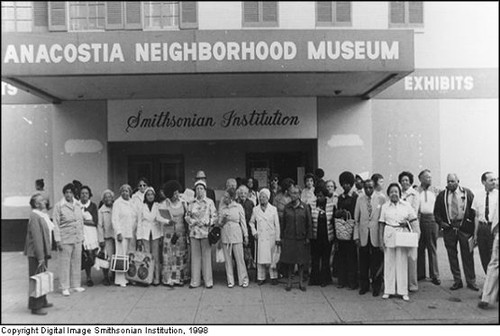 Conference: We Are Museums
The conference We Are Museums is for people who believe that the power of innovation and creativity can help museums grow. On this event we will discuss how museums can become more integrated in people's daily life, and how digital tools are helping museums become more open and connected. You will share your experiences and passions in collaborative workshops designed to help kickstart your strategy, and develop your roadmap towards an open museum. Multi-disciplinary art and performances throughout the event will immerse you in the creative and artistic energy of Vilnius.
Why should you attend?
*You're a museum/culture professional who wants to learn about the latest projects driving openness, innovation and community involvement in my field
*You're a cultural researcher or student interested in impact that digital is having on my field of study
*You're looking for new ideas to inspire change at the institution where I work
*You want to understand how digital technology is changing the way we think about and experience cultural places
*You want to exchange with leaders and experts in the field of museums
*You're institution wants to change its online strategy but we don't know where to start
*You'reinstitution has a digital project but we don't know how to move forward
*You want to understand how digital is reshaping the way cultural institutions work
Speakers
Marc Sands (UK) is the Director of Audiences and Media at Tate.
His mission is to make Tate thrive online across media and new media. He builds social networks for his institution while strengthening the social relationship between Tate and their audiences. He has revamped and relaunched Tate's website.
Neil Bates (NL) Europeana, Marketing Specialist.
His vision: Opening up digitised cultural heritage facilitates new and innovative re-use by developers and end-users alike – ultimately these are the people who create new and meaningful ways to share and engage with culture online.
Loic Tallon (UK) PocketProof strategy and design company specialised in mobile, Director.
His vision: a content platform where curators and visitors can engage, narrate and play, onside & online. Loic Tallon is Director of Pocket Proof, a strategy and design consultancy specialised in mobile. Loic helps cultural institutions think strategically about the opportunities presented by mobile technologies. Clients include the MFA Boston, the Whitney Museum of American Art, National Gallery UK, the National Museum of Qatar and the Espace Culture Louis Vuitton.
Samuel Bausson (FR) Museum of Toulouse, Webmaster – Founder member of Museomix.
His vision: a museum of experiences where you can touch, relax, remix contents, make you own science and art projects, share ideas, co-create new types of museum experiences and exhibitions. A museum that has become an open platform, online and onsite, for creative communities of users.
Martijn Pronk (NL) Rijksmuseum (NL), Rijksstudio Publisher.
His vision: a museum that offers truly free contents to establish a new intimacy with art and add a daily dose of museums in the vistors'lives. Martijn Pronk is Rijksstudio Publisher at the Rijksmuseum. He initiated the groundbreaking Rijksstudio project, which lets its users create and share their own products thank to making high resolution reproductions of masterpieces available online.
Paco Link (US) Metropolitan Museum of Art, Senior Mgr of Creative Development, Senior Media Produce.
His vision: Rather than simply stand in awe of others' artworks, digital media will empower museum visitors to create their own works of art, and understand creativity by being creative themselves. Museums should invite visitors to engage art and art-making through interpretive media, intuition, and play. As a Senior Manager of Creative Development at The Metropolitan Museum of Art, Paco Link leads the design and production of interpretive media for in-gallery, online, and mobile platforms. As projects such as the « Faking It » application suggests, he approaches technology as a way to bring the public closer to art in a playful and empowering manner.
Jenna Brinning (DE) Tumblr, Director of International Development.
She is an International Development Director at Tumblr, one of the fastest-growing networks today. A media science scholar with an established localisation and editorial background, Jenna has been with Tumblr since 2009 and has scaled the platform internationally while staying true to its commitment to exceptional user experience, aesthetics, and creativity.
Sarah Hromack (US) Whitney Museum of American Art, Head of Digital Media.
Sarah Hromack is a digital strategist, writer, and longtime blogger with interests in independent publishing, critical museum studies, and contemporary art. She is currently Head of Digital Media at the Whitney Museum of American Art, where she leads the creative development and implementation of institutional initiatives in the digital space.
Julien Dorra (FR) Designer of creative events / Founder member of Museomix.
His vision: Inspired by Internet, museums will enter our lives as tools for creatives, educators and researchers. Forget about museums as a media: they will be open platforms akin to web communities. Julien Dorra is a freelance designer of creative events with the concept of collective creativity as his main vision. Julien constantly launches communities of interest gathering people with different types of skills and passion at the crossing of technology and creativity to connect people and make things changing. Along with Samuel Bausson, he is one of the founders of Museomix.
Carolyn Royston (UK) Imperial War Museum, Head of Digital Media.
Carolyn Royston is Head of Digital Media at Imperial War Museums. She has transformed the museum's approach to digital engagement so that it is now central to organisational thinking and planning. Carolyn will share her experience of developing a digital strategy at IWM and then how to move from theory to practice to really embed digital at the heart of the organisation.
Laurent Gaveau (FR) Château de Versailles, Deputy Director of Communication.
His vision: the prestige of a place lies in its ability to reinvent itself by being made accessible for its audiences. Deputy Director of Communication, in charge of Marketing, New Media and Partnership at the Château de Versailles. Working in a centuries-old prestigious institution, he ensures that it has the capacity to keep in touch with its contemporary audiences and engage them through strong projects such as « Versailles Intime », multiple photo contests, and teaming with Wikipedia or Google to create and disseminate content.
Ineta Zelca Simansone (LV) Creative Museum
Her vision: museums of the 21st century will increasingly become a hub of knowledge transfer, creativity and innovation. They will act as agents of social change, tolerance and intercultural dialogue.
Donatas Saulevicius (LT) Lithuanian Museums Centre for Information, Digitisation and LIMIS, Head of IT Department.
His vision: Digitisation is about both preserving our memory and sharing with people today. Donatas Saulevicius heads the IT Department of the Lithuanian Centre for Information, Digitisation and LIMIS. He applies his long term computer science engineering professional experience to the cultural sector and scientific research. Donatas is currently involved in the national scheme for the preservation of heritage through digitisation.
Voor meer informatie:
We Are Museums
Museologie
/