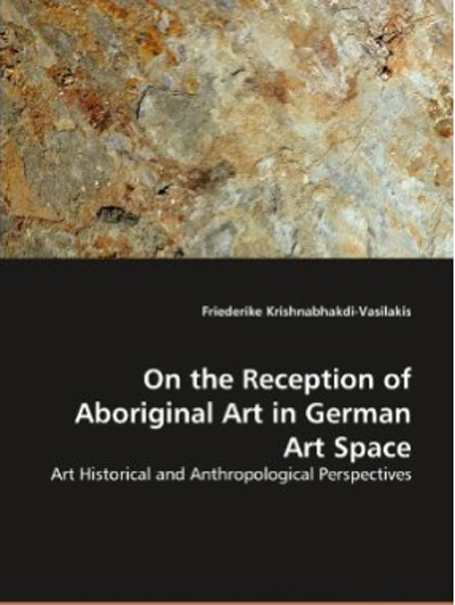 Publicatie: On the reception of aboriginal art in German art space
Doctor of Philosophy thesis by Friederike Krishnabhakdi-Vasilakis on the reception of aboriginal art in German art space, based on Edward Said en Michel Foucault.
German art history and ethnology have led to a binary reading of art that has inhibited the exhibition of Aboriginal art as contemporary art in the twentieth and early twenty-first century. This thesis addresses the question of how Australian Aboriginal art is displayed in the institutional spaces of art galleries and museums in Germany. I argue that there is an underlying current in Germany that divides the representation of art into European and "other", particularly Aboriginal art. Within German culture, ethnological museums are ranked differently from art institutional spaces. The art museum or gallery is at the top of the hierarchy, enhancing the self-reflexive notion of culture, while the ethnological museum provides the context against which European, specifically German, identity and culture are pitched. Aboriginal art that is contextualised as ethnographic and not as contemporary continues a Modernist perspective on cultural exchange, one that emphasises an essential difference between European and non-European art in a universal progress of humanity. This essentialising of culture in Germany does not reflect the globalised situation that evokes regional cultural inflections based on experiences and expressions of hybridity and fragmentation.
In order to understand how German art institutions and ethnographic museums stand for a Eurocentric art discourse, the thesis analyses the cultural parameters of nineteenth century Germany, the socio-political cataclysm of the Third Reich in the twentieth century, and the reversion to Modernism in its aftermath. In comparison, Krishnabhakdi-Vasilakis outlines the exhibition history and reception of Aboriginal art in Australia where the positioning of Indigenous and European traditions has shifted markedly into a postcolonial, postmodern situation since the1980s. My study investigates this categorisation into two entities through Western concepts of literacy and orality. Since the Enlightenment, the Western emphasis on alphabetic literacy as a system superior to oral transmission of knowledge has governed the way we make sense of the world around us. The written word underpins modes of exhibition display and reception, so that representation is read as text. As a consequence, institutions and galleries, as part of visual culture, treat knowledge that is transmitted orally as inferior. This thesis explores strategies that allow the viewing of art outside the conventions of the written word.
Krishnabhakdi-Vasilakis examines the modes of display and reception of Aboriginal art through fundamental ideas first put forward by Edward Said in Orientalism (1978), and also through Michel Foucault's The Order of Things (1970). Her main focus, however, relates to Pierre Bourdieu's concepts surrounding Cultural Capital, Symbolic Capital and Symbolic Violence in his publications The Field of Cultural Production (ed. Randal Johnson 1993) and Language and Symbolic Power (trans. by Gino Raymond and Matthew Adamson 1991) which allow an analysis of power relations in cultural exchange within the hierarchies of art institutions.
Krishnabhakdi-Vasilakis, Friederike, On the reception of aboriginal art in German art space, Doctor of Philosophy thesis, Faculty of Creative Arts, University of Wollongong, Australia, 2009
Hedendaagse Aboriginal kunst
/