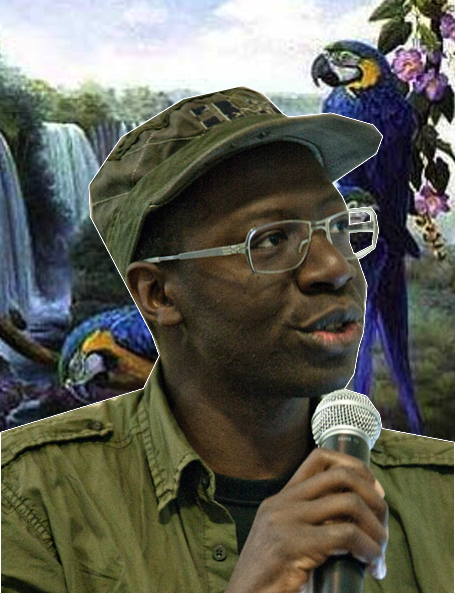 Gillion Grantsaan
Gillion Grantsaan (b. 1968) is a Dutch-Surinamese artist who often uses his surinamese roots in his work in a humorous way. He grew up in the Netherlands and graduated from the Gerrit Rietveld Academy of Fine Arts (Amsterdam) in 1996.  In the same year, he received a grant for young artists and took part in the group show Mothership Connection in the SMBA (Stedelijk Museum Bureau Amsterdam, Netherlands). Other participants included Chris Ofili and The Black Audio Film Collective. In 1997 Grantsaan had his first solo exhibition in Middelburg (Netherlands) for which he was nominated for the NPS Culture Award, he won the Charlotte Köhler prize in 1998.

His mission and practice as an artist can be summarised in his 2009 book Wakaman, based on the project and exhibition of the same name:

"Isn't there anyone out there genuinely hot for the real black thing? And am I, a black visual artist, capable of generating that drive that gave birth to Calypso, Funk, Hip-Hop, Bleus, Mambo and of translating this drive into visual art?

Black Art.
Black art is a product of black consciousness.
Black art is elitism and there to be judged on its quality.
Black in Black art means to be political.
Black art is an innovative synthesis of two or more Welanschauungen.

Black art is not the exclusive domain of people of African origin. As A fact Black art has nothing to Do with skin Pigment of the artist.

But with the dreams that keep following me:
Dream A, B, and C.
Dream A is for producing images for my political ideals and black socio-cultural information.
Dream B stands for shocking the world with innovative images.
Dream C wants to inscribe my fellow immigrants in the course of European history." 

from Wakaman, p. 24, 2009.    Gillion Grantsaan was a guest for the panel discussion The View of Self: Blak on Blak on 30 May 2010, realized in cooperation with Australian art magazine Artlink, the National Museum of Australia and AAMU – Museum for Contemporary Aboriginal Art, and Framer Framed.
---
Agenda
The View of Self - Blak on Blak
Blak on Blak - reading Australian blak art, myth and reality in perceptions of contemporary indigenous practice.