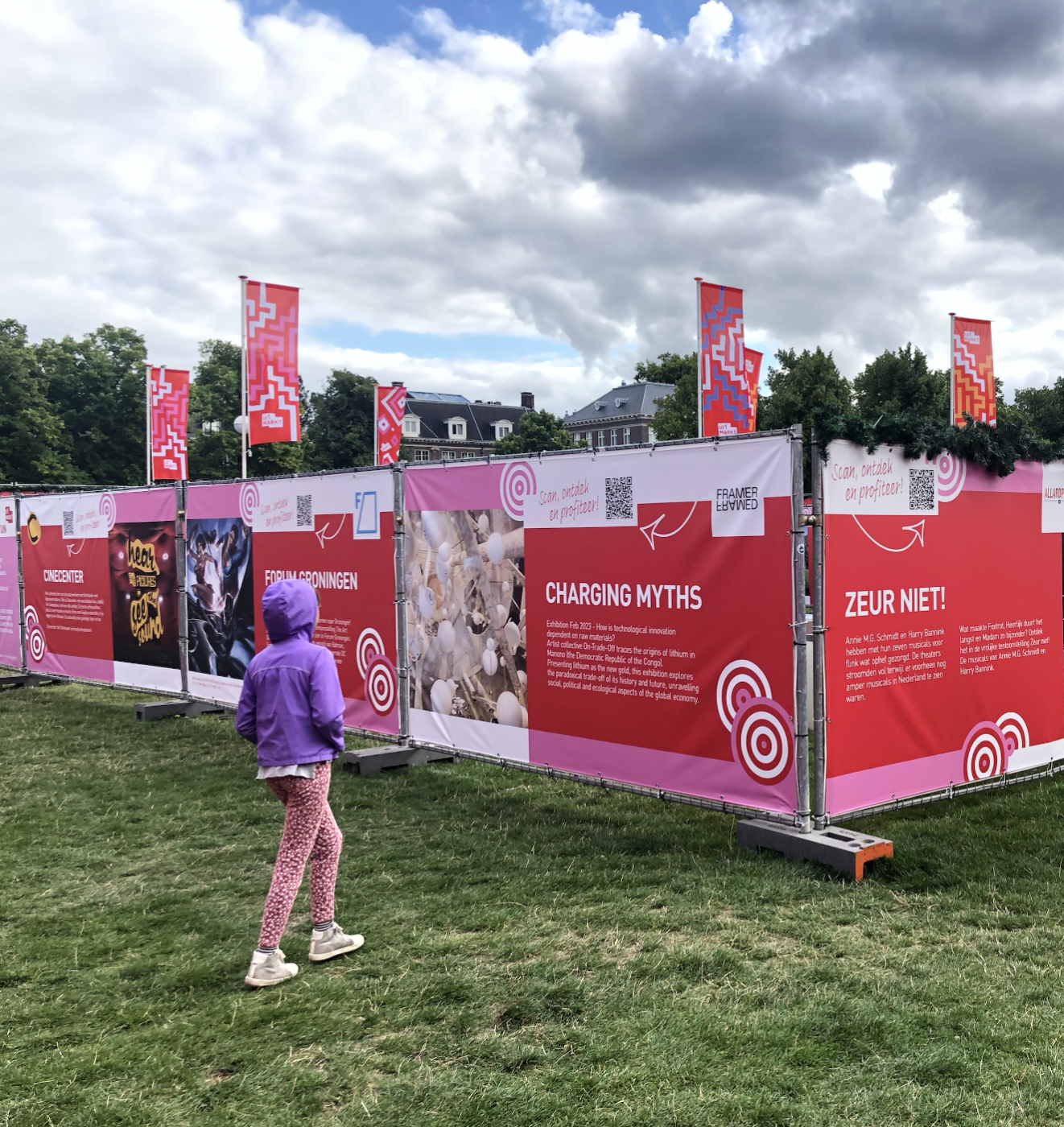 26 aug –
28 aug 2022
Uitmarkt 2022
Every year around the end of August, Amsterdam's Museumplein and Leidseplein come alive with an inspiring selection of theatre, music and a variety of performances. New at the Uitmarkt is the 'Cultuurtuin' on Museumplein: a special experience in which visitors can wander in peace in a labyrinth and digitally scan information related to the cultural season using their mobile phones. Framer Framed is part of the Cultuurtuin where you can learn about our upcoming exhibition: Charging Myths by the artist collective On-Trade-Off.
---
Charging Myths is opening at Framer Framed on February 2023. More info
For 45 years, the Uitmarkt in Amsterdam has marked the national start of the cultural season. After two years in which the entire cultural sector has been hit hard, it is now time to stand up. As usual, we will present national art and cultural offerings for the coming season and celebrate the enormous quality and diversity of art and culture. As always, we will do this at the last weekend of August on Friday the 26th, Saturday the 27th and Sunday the 28th of August. But with a modified concept and program that focuses on the Museumplein and Leidseplein and is broadcast nationally. This year's Uitmarkt has three parts: Uitmarkt: in Concert, Uitmarkt: the Cultuurtuin and Uitmarkt: on Location.
The culture houses on and around the Museumplein and Leidseplein are also participating. These include the Van Gogh Museum, the Rijksmuseum, the Stedelijk Museum, the Concertgebouw and Once Upon a Time Amsterdam. Paradiso, de Balie and DeLaMarde open their doors on Leidseplein with a special and adapted Uitmarkt program.
The Uitmarkt is made possible in part by: amsterdam&partners; Municipality of Amsterdam; Museum card; NORMA Culture Explosion; Prince Bernhard Cultuurfonds; Fonds 21; VandenEnde Foundation; VriendenLoterij; VSBfonds and financiers participating in kickstart culture fund. Producer: XSAGA Festivals
Cultural programming
/
---
Agenda
Uitmarkt 2019
Amsterdam's Annual Cultural Festival
---
Magazine