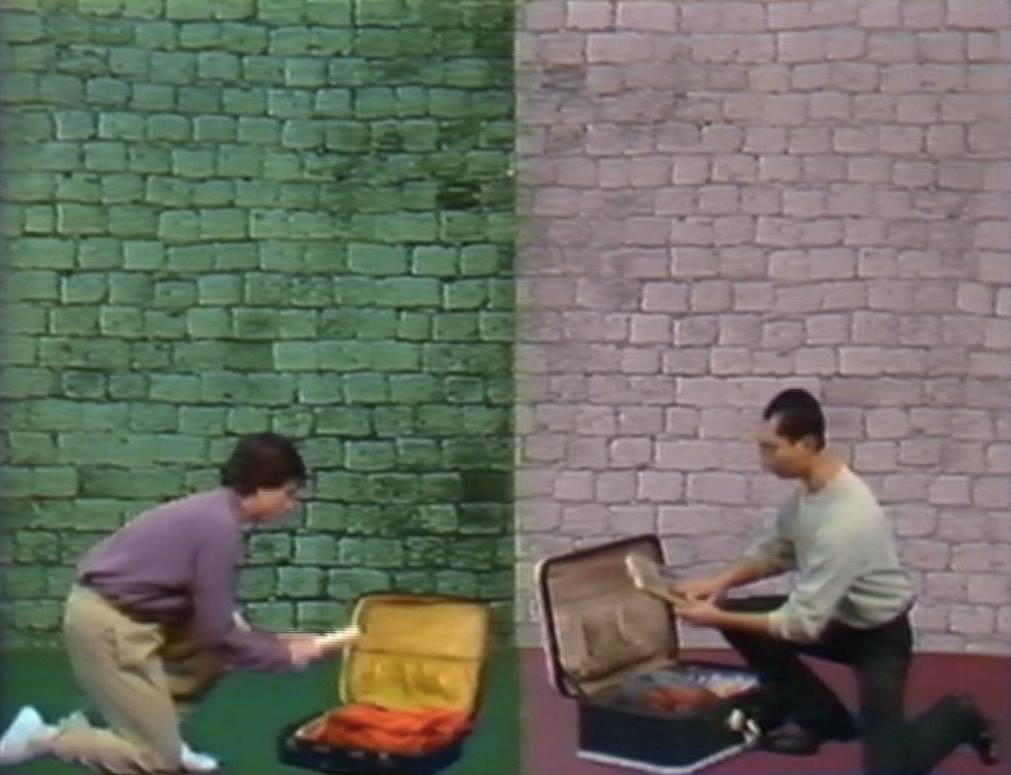 27 jul 2016 – 20:00
Queer Series #1: Somos Libres!? Queer Amsterdam in the '80s
Datum 27 juli, 2016 Tijd 20:00 ~ 21:30 Locatie Framer Framed in de Tolhuistuin IJpromenade 2 1031 KT, Amsterdam-Noord Route
 Framer Framed in de Tolhuistuin is van Amsterdam Centraal Station bereikbaar met het pontje 'Buiksloterweg'. De entree van het gebouw ligt direct aan het fietspad langs het IJ. De expositieruimte is bereikbaar via restaurant THT. Entree Gratis Facebook event
---
Coinciding with EuroPride 2016, the first edition of 'Queer Series' at Framer Framed focuses on gay Amsterdam in the 1980s; a time when the city's anarchic vibe flourished and video came to the artistic forefront. After an invigorating dive into its archive, we discovered that the LIMA* collection offers surprising perspectives on both art and social issues in the 'rainbow' city of Amsterdam at that time.
In the video Somos Libres!? (1981), Miguel-Ángel Cárdenas (1934-2015, Espinal, Colombia) questions to what extent gay men are free. Moving from Colombia to Barcelona and subsequently to Amsterdam, he finds himself trapped in misconceptions on these two so-called cities of tolerance. Cárdenas discovers situations far from ideal, far from what he expected these open-minded cities to be.
Daniel Brun (1944-1994, Paris, France) a contemporary of Cárdenas, relocated to Amsterdam in 1978, where he became a prominent leader of early Dutch video art, experimenting with this new medium in the artistic field. In his videos, Brun pushes boundaries by playing with notions of sexuality and gender roles.
To contextualise the screenings, we invited dr. Gert Hekma and Tineke Reijnders. Hekma teaches gay and lesbian studies at the University of Amsterdam and has written multiple publications on both the historical and current position of homosexuality in the Netherlands. As an art historian and contemporary art critic, Reijnders has a special interest in artists' initiatives and socially engaged art. Bas Hendrikx and Léon Kruijswijk (Queer Series initiators) will moderate the conversation.
—-
About:
Queer Series is an initiative by Framer Framed, organized by Léon Kruijswijk and Bas Hendrikx. The series of events highlight, contextualize as well as question queer elements of artworks, art collections and art archives. Based on the idea that these aspects often receive little attention, this series of public events aims to unravel as much as critique past and present queer and gender issues in societies through the lens of contemporary art.
Exhibition What We Have Overlooked:
Before & after the event, visitors will also get the opportunity to view the current exhibition at Framer Framed. What We Have Overlooked is a collection presentation of Museum Arnhem at Framer Framed, curated by Mirjam Westen. Many of the exhibited artists & works deal with topics of gender, sexuality & identity.
—
*LIMA is an international platform for sustainable access to media art, based in Amsterdam, founded by experts from the former NIMk.
Queer
/
---
Agenda
Queer Series: SILENCE=DEATH
Beschouwingen over artistieke uitingen in relatie tot de HIV/Aids crisis.