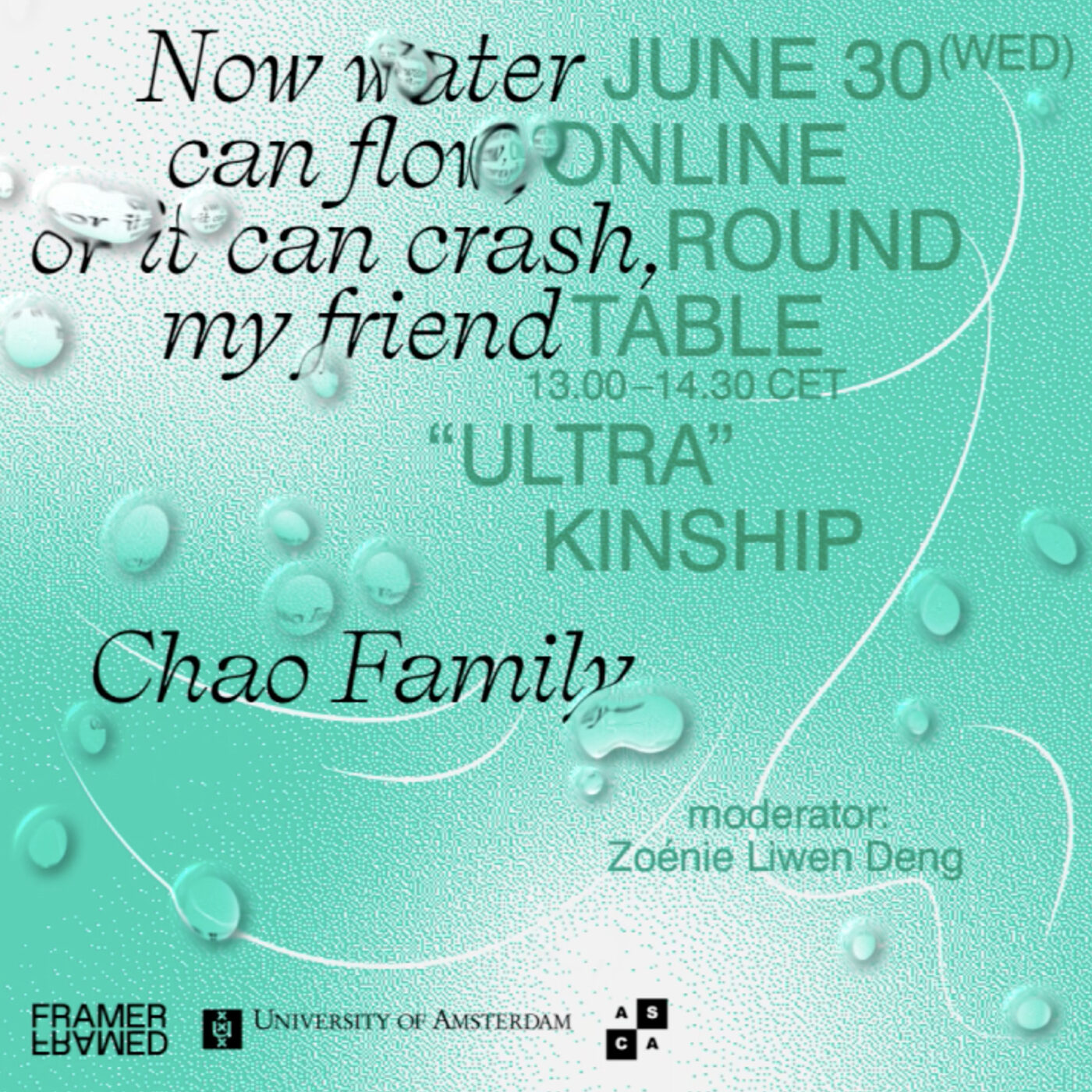 30 Jun 2021
13:00 - 14:30
Online Discussion: "Ultra" Kinship
The program Now water can flow or it can crash, my friend consists of a series of online/offline roundtable discussions, interactive workshops, screenings and lectures to explore notions of art, archive, and activism in the context of East Asia and beyond. After May programs that connected the democratic struggles and fluid activism of Taiwan, Hong Kong and South Korea, we now continue with our June program. Second up: an online discussion that imagines alternative ways to practice care and support.
---
Online Roundtable
Date: June 30th, 13.00-14.30
Moderator: Zoénie Liwen Deng
Panelists: Members from Chao Family
Register
The event is FREE and has limited spots. Please register to join the workshops by Eventbrite. You will receive an invitation by email. The language is English.
---
The story of the Chao Family, later also known as Chao Co-op or Chao Productions, can—despite all of its longings to found something new and revolutionary—be seen as just another emotional story of human relations at their best and worst. There is a mother, there is a child, there are joys and betrayals and everyday struggles. There is love and fear and hate.
This video essay has been edited by Naniko, one of the newest participants of the family, and therefore a subjective observation and processing of sorts. The footage is from various other friends and members of the Chao constellation and spans the time of Miaozi's pregnancy to the present, one-and-a-half year later. The constellation, the name, and ways of collaborating have evolved; financial struggles pervade everything. Sometimes the group is a working cooperative, sometimes an art & design collective, or maybe even—cāo, which sounds like chāo and means "fuck"—a fucking family.
Discussion: what are the difficulties of raising a child outside of marriage or couplehood in a society reigned by heteronormativity and having children outside of heterosexual wedlock is not welcomed legally and culturally? How can we build the network of support for non-binary and non-bound-by-blood polymaternalism to grow? What are the difficulties in practising this sort of alternative kinship (e.g. financial difficulty)? In this discussion, we would like to invite you to join us to imagine how to practice care and support in such a kinship, and to find some possible solutions to address these concerns.
---
Contributors
Zoénie Liwen DENG is an art writer, researcher, poet, curator, and translator. She obtained her PhD degree from the Amsterdam School for Cultural Analysis (ACSA), University of Amsterdam. Being part of the European Research Council (ERC) funded research project, her PhD project focused on non-oppositional criticality of socially engaged art in contemporary China.
Chao Family is an alternative family initiated by Miaozi and her friends in Guangzhou. In the spring of 2019, Miaozi found herself accidentally pregnant, and soon her boyfriend left her. Miaozi's mother demanded her to abort the baby, and her father demanded her to marry her ex-boyfriend before the baby's birth. She struggled against both demands. When winter came and Miaozi's belly was at its fullest, she and ten friends in Guangzhou decided to host their own special wedding, initiating an alternative family called Chao Family (超家族) to care for the baby and each other.
---
Background of the Series
How to live life in a time of intense insecurity? A pandemic time, with a climate crisis looming and with populism, systematic racism worldwide on the rise? What can we learn from art practices and recent social movements hailing from East Asia to imagine a more sustainable future from our own situated context? The title of this program, taken from Hong Kong American martial artist Bruce Lee's philosophy, reminds us that resilience and care come from fluidity, flexibility, and tenacity. In a turbulent time, we need even more so friends close and afar to make alliances for a journey in building a better world.
Together with artists, collectives, activists, and scholars, this new series digs into the question: what role do cultural practitioners play in social movements in East Asia? How do they transgress nation-based boundaries and join the flows with others? How can we archive actions that are always in flux, and so often, on the verge of destruction, disappearance, and alteration by the ruling powers? What symbolic and material techniques do artists mobilise to address ethics of resilience? And how can such artistic practices be restored so that we can learn from them?
In the coming months, we invite you to explore the various forms and creative potentials of resistance, remembrance; of fluidity, porosity, non-oppositionality, and care. Through this program, we advocate for a better world where we attend to our interconnectedness, where we float freely yet at the same time hold each other firmly, like water—formless and shapeless, maybe, but also more resilient.
---
Credits
This series is a collaboration of Framer Framed and ASCA/University of Amsterdam.
Research Team: Emily Shin-Jie Lee, Jiyoung Kim, Yvette Lok Yee Wong, Zoénie Liwen Deng
Visual identity & Graphic Design: Simo Tse
Facilitator: Jeroen de Kloet
Action Research
/
East Asia
/
---
Agenda
Creative workshop: When in doubt, take a walk
An online exercise connecting the urban experiences of Hong Kong to Amsterdam by walking
Online Roundtable: Live Together Otherwise
On mutual help and collegiality in times of crisis
Online Film Screenings: Now water can flow or it can crash, my friend
Selected films from Mainland China, Taiwan, South Korea and Hong Kong
Online Roundtable: Resistant Bodies
A public program shedding light on women's stories in the sites of resistance
Online Roundtable: Curating Against Oblivion
A public program exploring curating as a form of resistance and remembrance
Launch: Now water can flow or it can crash, my friend
A public program exploring art, archive and activism in East Asia and beyond
---
Network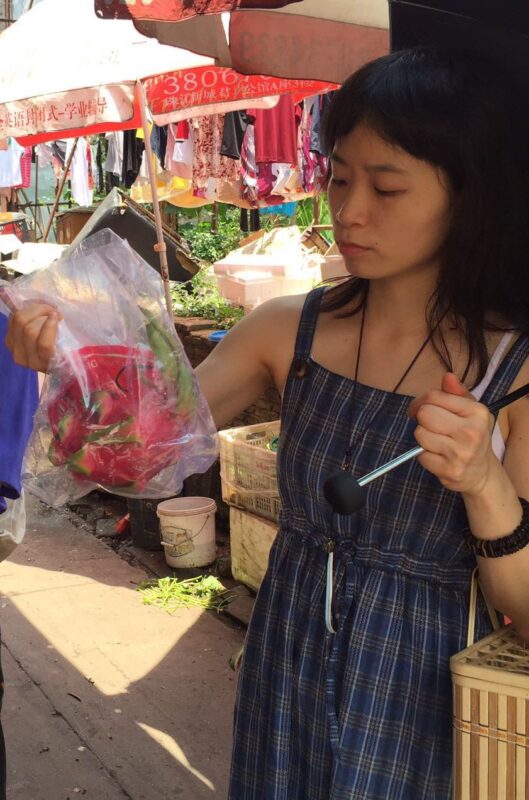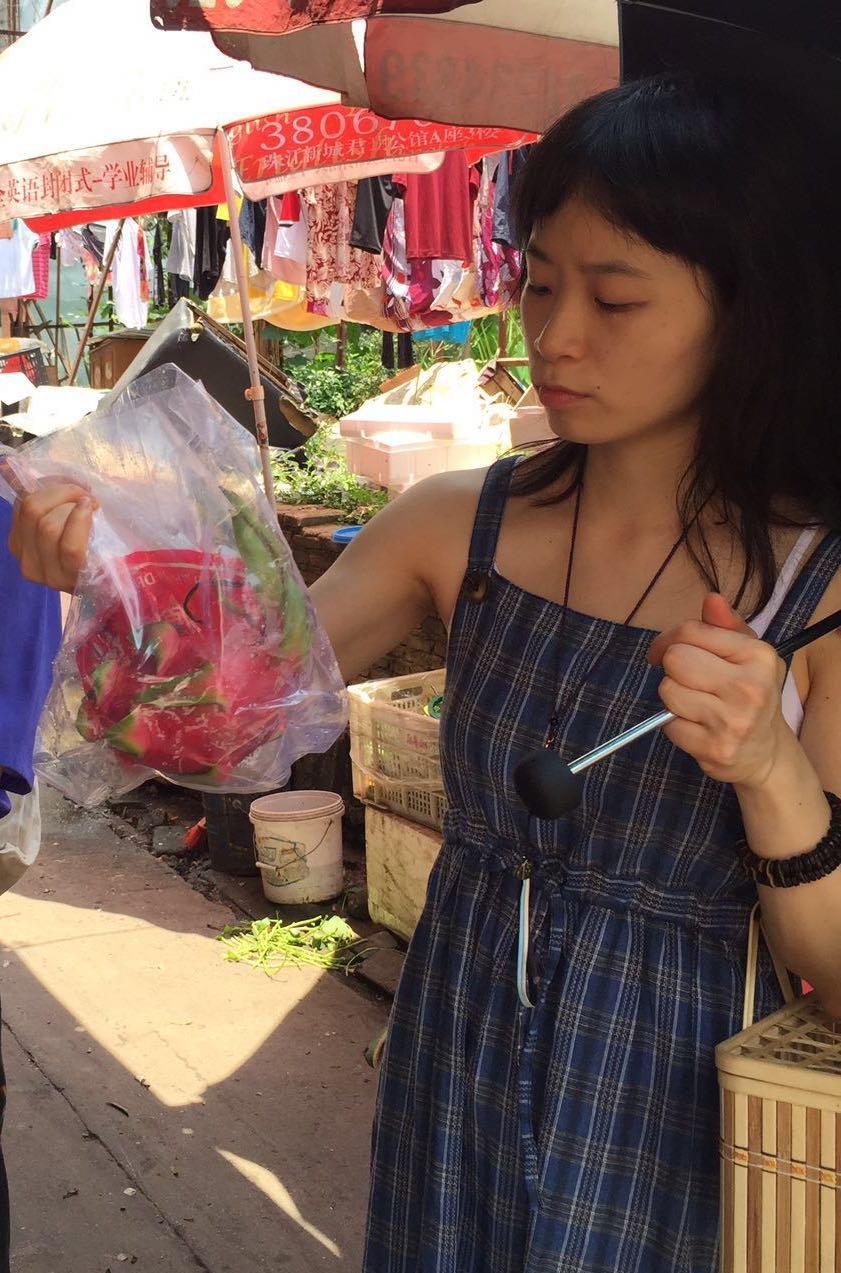 Zoénie Liwen Deng
Art writer and researcher