Wafaa Bilal
Wafaa Bilal (b. 1966) is an Iraqi-American artist. Previously he was a professor at the School of Art Institute in Chicago and he is currently an assistant professor at the Tisch School of the Arts at the New York University. While he had wanted to become an artist for a long time, this was not possible under the Iraqi regime. Instead Bibal studied geography, although he remained passionate about art. Because of his ongoing activity as an artist and the criticism of Saddam Hussein, he was eventually arrested as a dissident.
Bilal escaped Iraq in 1991 and after spending two years in refugee camps in Kuwait and Saudi Arabia, he arrived in the United States. In the United States he graduated from the University of New Mexico and he attained his Masters of Fine Arts at the School of Art Institute of Chicago. Bibal is mostly known for his online performative and interactive artworks that provoke dialogue on international politics and internal dynamics. Bilal is especially known for the work Domestic Tension that he created as a reaction to the death of his brother at an American checkpoint. For Domestic Tension, Bilal stayed in a confined, cell-like space for a month. During this time he was constantly in the range of a number of paintball guns and a camera, which was connected to the Internet. Visitors of the gallery and internet-viewers could watch and shoot him 24 hours a day. Because of its controversial nature, the work generated worldwide attention.
Wafaa Bilal was a participating artist in the group exhibition Crisis of History #2: Fight History from 8 February to 8 March 2015 at Framer Framed, curated by Robert Kluijver. Bilal is currently an Arts Professor at New York University's Tisch School of the Arts.
---
Exhibitions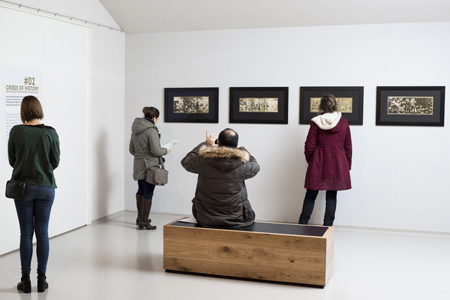 Exhibition: Crisis of History #2 - Fight History
Curated by Robert Kluijver