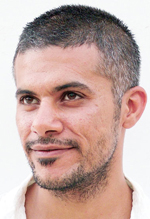 Shadi Alzaqzouq
Shadi Alzaqzouq (b. 1981) is a visual artist who grew up in a Palestinian community in Libya. As an artist without a passport and without a homeland, Alzaqzouq has lived an eventful life. After the Oslo Peace Accords, he relocated with his family to Gaza where he studied Music at the Polytechnical Institute. There, he worked as a music instructor in a primary school for five years.
In 2002, Zaqzouq became a member of the group Windows from Gaza and he became a frequent visitor of the French Cultural Centre, the only cultural centre on the Gaza Strip. It was here that he first showed his paintings during the project 'Gaza Upside Down', a project that would later travel through Palestine In 2006, Alzaqzouq won the Young Palestinian Artist Prize of the Abdel Mushin Qattan Foundation, which he followed up with a residency at the International City of Art in Paris, courtesy of the French Consulate in Jersusalem. In the same year Alzaqaouq was awarded with a residency at La Cité Internationales des Arts and subsequently moved to Paris where he completed a B.F.A at the Université Paris VIII. In 2015, he participated in the Dismaland theme park project by the British artist Bansky, where he was told his artwork would be removed from the show after he staged an anti-Israel protest.
Alzaqzouq has worked on various solo and group exhibitions in France, the Netherlands, Korea, Tunisia, Syria, Dubai and Palestine. In 2015, Shadi Alzaqzouq was a participating artist in the Framer Framed exhibition Crisis of History #2: Fight History, on show between 8 February to 8 March and curated by Robert Kluijver. On 15 February 2015, he gave an Artist Talk with Tammam Azzam, and a guided tour of the exhibition. He currently lives and works in Paris.
---
Exhibitions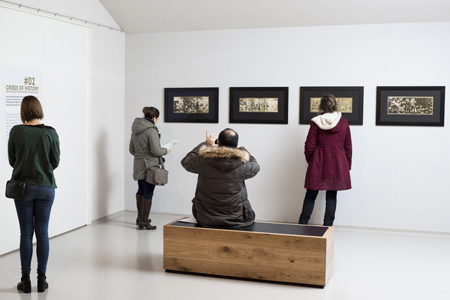 Exhibition: Crisis of History #2 - Fight History
Curated by Robert Kluijver
---
Agenda
Artist Talk with Tammam Azzam en Shadi al Zaqzouq
Panel discussion with participating artists in the exhibition Crisis of History #2.