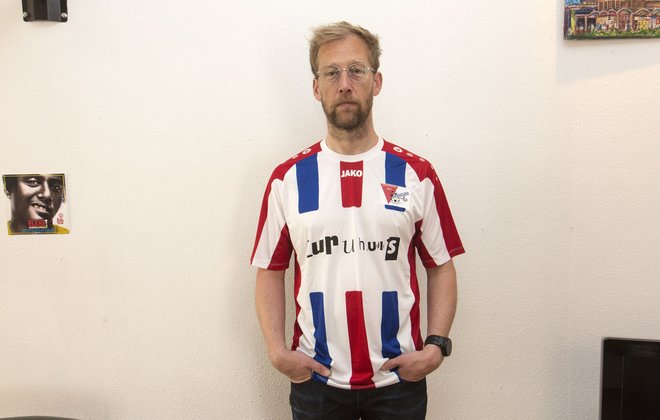 Reinaart Vanhoe
Reinaart Vanhoe (België, 1972) is kunstenaar, auteur en docent. Hij studeerde hedendaagse kunst in België en Nederland. Hij is alumni van de Rijksakademie in Amsterdam. Zijn kunstpraktijk omvat een breed scala aan media variërend van tekeningen, foto's, video en installaties.
Naast zijn kunstenaarschap ontplooit hij een scala aan andere werkzaamheden, waaronder lesgeven aan de Willem de Kooning academie in Rotterdam. Reinaart Vanhoe is een van de oprichters van STDSPS/ DEPLAYER, initieerde verscheidene video/film-programma's/-tentoonstellingen en zette het tentoonstellingsplatform Also-Space op. In vanhoe's gelijknamige boek Also-Space, From Hot to Something Else (2016) onderzoekt hij verscheidene Indonesische kunstpraktijken en ruimtes. Hij benadrukt hierbij de nieuwe manier van kijken naar een kunstpraktijk. Reinaart vervangt hierbij de term 'Alternative-space', waarin kunstenaars zichzelf vaak uitsluiten van hun omringende sociale situatie, met de term 'Also-Space', een concept dat de productie en positie van kunstenaars binnen hun gemeenschappen en kunstpraktijk herziet.
Vanwege zijn interesse in boeken en doordat hij ze beschouwt als tentoonstellingen of video's/films, schrijft hij ook veel. Zijn werk is een reflectie op ons temporele gedrag. Hij relativeert en ontwaart symbolische waarden en kiest voor de directe ervaring.
---
Agenda
Book Presentation: 'Art for (and within) a Citizen Scene' & 'Be Water, My Friend'
A joyous sharing on writing, reading and book making at documenta 15, Kassel
Symposium: Digital Flux - Towards a common imagination
by Framer Framed and Non Native Native
Online Roundtable: Live Together Otherwise
On mutual help and collegiality in times of crisis
Finissage: Pressing Matters & Workshop 'Also-Class'
With artists reinaart vanhoe and Shraddha Borawake on the topic 'also-space', and a guided tour by artist Kevin van Braak.
---
Magazine