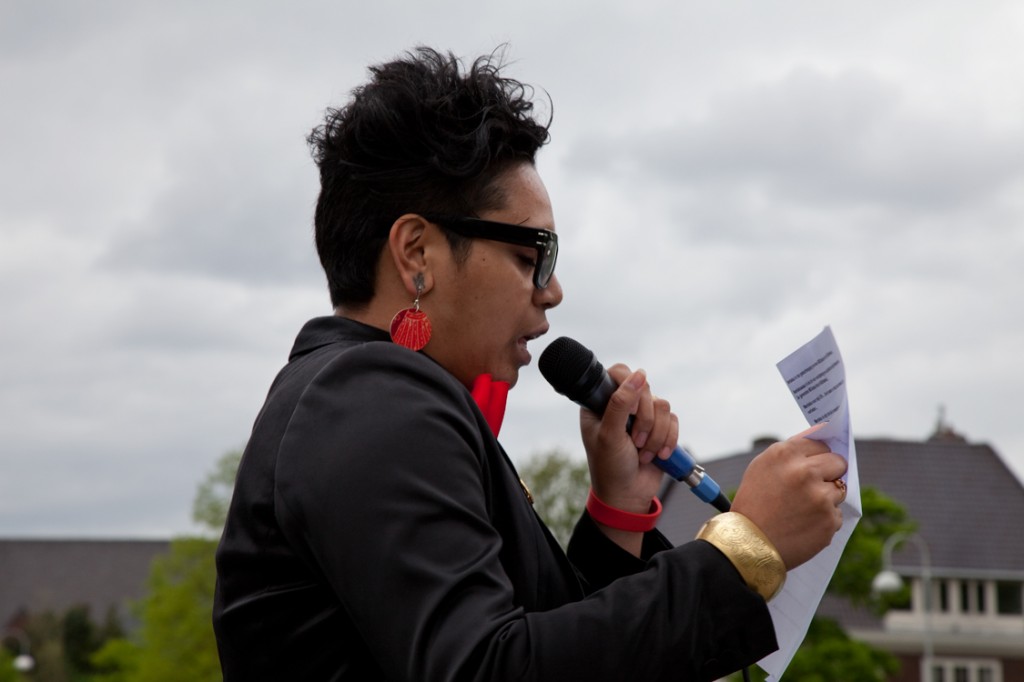 Olympia Latupeirissa
Olympia Latupeirissa aka OIL (Olympia Is Lyrical) is a writer, poet, artist and activist. She contributed to the performance for the re-instatement of Monument Indië Nederland, formerly the Van Heutz monument in Amsterdam, as part of the Hacking History event in 2012, organized by the Amsterdams Comite 4 en 5 Mei, in cooperation with Framed Framed.
Latupeirissa has been busy with pen and paper since her childhood. She wrote articles for the Moluccan youth website www.bukamulu.nl and is sometimes a guest writer at the Moluccan magazine Marinjo, though her heart lies with poetry. She often performs and her first published poem is in the second part of the selected works of "Wonder en Geweld", assembled by Hans Straver. She campaigned with the name "RAUWE VROUWE!", the poetry performance Moluccan women's formation in the Netherlands. Thematically, her work mainly lies with Maluku, RMS, human rights, women's rights, gay rights, culture, politics, music, but Latupeirissa also writes texts with other themes.
Olympia Latupeirissa also created an exhibition with her mother. In combination with the images and paintings of her mother and Latupeirissa's poetry, they exhibit their art together. This young lady is also active with her new company "Ina Is Love", that is shortly coming to life. In short, Latupeirissa is an enterprising and creative being, who makes people consider things differently through her message. "Ina Is Love" was founded with her love for the inspirational Women in her life and the power that women have to endure the phases of life and to survive through their primal power.
---
Agenda
Hacking History
A brainstorming about the relationship between the Netherlands and Indonesia and its representation in public space.
---
Magazine