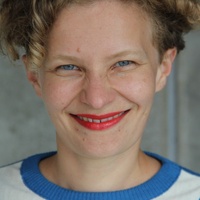 Margaret Tali
Margaret Tali is a cultural theorist, teacher and curator based in Amsterdam. She works in and with the cross-sections of visual art, critical theory and museology. In her PhD research at the Amsterdam School of Cultural Analysis, University of Amsterdam finished in 2014, she theorized absence based on identities and memories that are neglected in the neoliberal processes of nation building by focusing on art museums practices of collecting. Her current research engages with artistic activism and the roles of visual testimonies in the context of Eastern European history, waves of migration and the transcultural memories of traumatic events.
She has published her work in several journals and magazines. She has recently co-edited book-project "Archives and Disobedience. Changing Tactics of Visual Culture in Eastern Europe" (forthcoming in 2016) and journal special issue "Event in Arts and Culture" (2015). She works as a lecturer and researcher at the Maastricht University.
---
Agenda
Impossible Dialogues - Contested memories, conflicting presences
Presentation of a long-term interdisciplinary research project is conceived by curators Katia Krupennikova, Inga Lāce and Margaret Tali.
Project overview: PATTERNS & Impossible Dialogues (2016)
Overview of the project and program surrounding PATTERNS / Impossible Dialogues. Perspectives from within & about Central and Eastern Europe in the social sciences, arts and history.
Impossible Dialogues - First Edition
Curated by Katia Krupennikova, Margaret Tali and Inga Lace.
Mining, Memories and the Body: An evening with a.o. Melanie Bonajo
Addressing the politics and poetics of changing industries, such as mining.