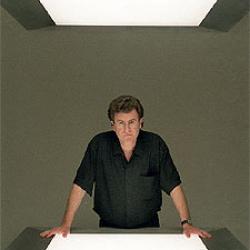 Alfredo Jaar
Alfredo Jaar (b. 1956) is a Chilean-born artist, architect, and filmmaker who lives in New York. From age 5 to 16, he lived in Martinique before moving back to Chile. He is mostly known as an installation artist, often incorporating photography and covering socio-political issues and war – the best known perhaps being the 6-year-long The Rwanda Project about the 1994 Rwandan genocide. He has also made numerous public intervention works, like The Skoghall Konsthall one-day paper museum in Sweden, an early electronic billboard intervention A Logo For America, and The Cloud, a performance project on both sides of the Mexico-USA border.
The artist's iconic work A Logo for America (1987) used an electronic billboard in New York's Times Square to display the statement "This is not America" emblazoned across a map of the United States. Jaar draws attention to the fact that the name America is routinely applied erroneously to just one of the two American continents.
His work has been shown extensively around the world and Jaar has participated in the Biennales of Venice (1986, 2007, 2009, 2013), Sao Paulo (1987, 1989, 2010, 2020) as well as Documenta in Kassel (1987, 2002). The artist has also realized more than seventy public interventions around the world and over sixty monographic publications have been published about his work. He became a Guggenheim Fellow in 1985 and a MacArthur Fellow in 2000. In 2015, he was a participating artist in the group exhibition Costume Bureau at Framer Framed in Amsterdam, curated by Roel Artkestijn.Recently, he received the Hiroshima Art Prize in 2018 and the Hasselblad Award in 2020.
---
Exhibitions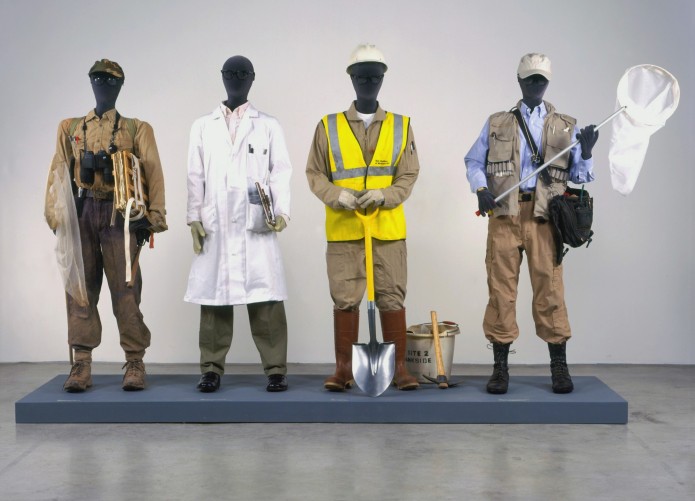 Exhibition: Costume Bureau
A collection presentation of Museum Het Domein, curated by Roel Arkesteijn
---
Magazine