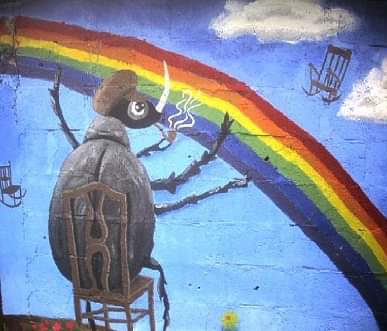 A Theatre Play by CHTO DELAT
Framer Framed has partnered with State of Concept in Athens to support a work by activist art collective CHTO DELAT. This work was shown in Athens and Rome and will be shown at Framer Framed in Amsterdam in June. The Open School of Migrants in Piraeus presents a puppet theatre performance created by CHTO DELAT.
---
With this new commissioned work, Chto Delat is addressing the gap in education that migrant communities experience when arriving in a new unfamiliar place. The project aims to encourage participatory spirit while building a community of care, solidarity and empowerment.
The collective has been developing methodologies on performative education, using the examples of theatrical masters from the past with language of theatre, educational formats and contemporary artistic practice. They play with questions like; what is the role of national identity? What lessons are there to be learned from the political movements of the 20th century? What types of ideas can be conveyed through theatre, fairytales, storytelling, and allegory? How can art transform into a tool?
The Public Program in Athens
Comandante Marcosone is one of the leading figures from the Zapatista Movement, known for some "fairytale" writings on a heroic character called Durito. He uses allegory to pass a political message. The students who participated in the program in Athens, interpreted one of the eight stories about Durito that they liked to enact through their own experiences – using Greek as their adopted language. The result was a puppet theatre play on 20 September 2020, which was a performance at the opening, and it was conceived together with a local puppet director and maker in Athens.
Facebook page of the play: What is hidden in their pockets?
---
CHTO DELAT (What is to be done?) was founded in early 2003 in Petersburg by a workgroup of artists, critics, philosophers, and writers from St. Petersburg, Moscow, and Nizhny Novgorod with the goal of merging political theory, art, and activism. The name of the group derives from a novel by the Russian 19th-century writer Nikolai Chernyshevsky.
State of Concept Athens is the first non-profit contemporary art institution with a permanent location and a yearly program to operate in Greece. Founded in 2013 by art critic and curator iLiana Fokianaki and based in the neighbourhood of Koukaki at the centre οf Athens, it is an independent platform that fosters the appreciation for local and international contemporary art and the growth of artistic and curatorial practice.
The Piraeus Open School for Migrants is a voluntary based association works on educational and training support for the cultural advance of immigrants, refugees and vulnerable social groups in Greece.
This play is created by CHTO DELAT and co-commissioned by Framer Framed and State of Concept Athens.
Migration
/
Performance
/
---
Agenda
About the footprints, what we hide in the pockets and other shadows of hope
Chto Delat Online Film Premiere