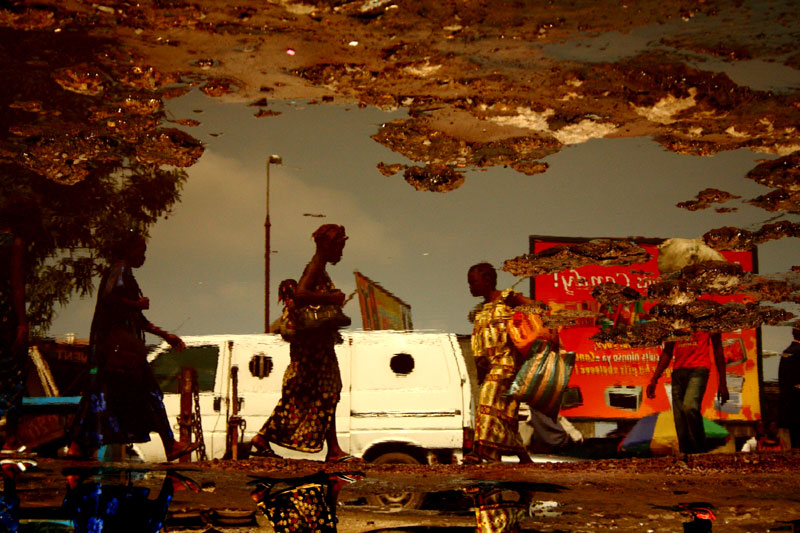 Exhibition: Bamako Encounters. Kiripi Katembo & Abdoulaye Barry
Het Koninklijk Museum voor Midden-Afrika brengt in de zomer van 2012 twee monografieën uit de 9de editie van de Bamako Ontmoetingen, een Afrikaanse biënnale voor fotografie: Un Regard van Kiripi Katembo en Pêcheurs de nuit van Abdoulaye Barry. De Bamako Ontmoetingen komen naar België in het kader van de Summer of Photography 2012, een groot festival georganiseerd door BOZAR, dat scherpstelt op de creatieve fotografie en waaraan de belangrijkste Belgische musea en instellingen voor fotografie meewerken. Gelijktijdig presenteert BOZAR in Tour & Taxis Pan-African Photography met werk van andere fotografen en videasten van de biënnale.
Un Regard
De reeks Un Regard van Kiripi Katembo bestaat uit 19 foto's genomen in de straten van Kinshasa. De beelden zijn reflecties in waterplassen waardoor een weerspiegelde stad ontstaat, waarin mensen, gebouwen, auto's, muggen, vuil en afval samenleven. Zo creëert Katembo een bevreemdende, poëtische wereld.
Pêcheurs de nuit
De 25 foto's, Pêcheurs de nuit, van Abdoulaye Barry zijn portretten van vissers rond het Tsjaad-meer. Barry maakte nachtopnames van gezichten en activiteiten, waardoor deze een mysterieus en wazig aspect krijgen. De foto's zijn stille getuigen van het fragiele bestaan van de vissers en de bedreiging van hun leefmilieu.
Van 14 juni tot 26 augustus 2012
Gratis met toegangskaartje museum: 4 € / 3 € / 1,5 €
In het kader van de Summer of Photography 2012, een initiatief van BOZAR.
Rondleiding
Op 22 juli zal Kiripi Katembo de bezoekers rondleiden in de tentoonstelling.
Vanaf 15u00, gratis (+ toegangskaartje museum)
Rondleiding in het Frans
Photography
/