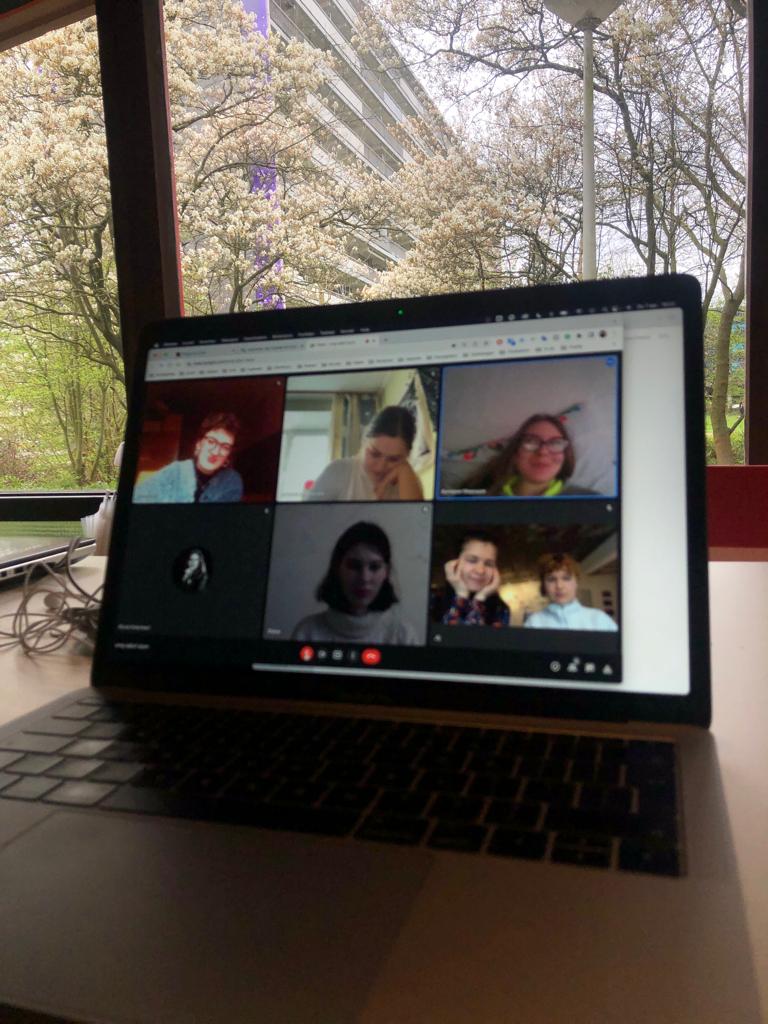 Teen Art Club - a support initiative for Ukrainian teenagers from Kyiv
Nicole Katenkari, ex-curator and museum educator at Mystetskyi Arsenal, was forced to leave Kyiv at the beginning of March 2022 due to the Russian invasion of Ukraine. She was welcomed by Framer Framed to start a residency in Amsterdam-Oost. During a period of three months, she became part of the education team and made a valuable contribution by organising the Teen Art Club, a support initiative for Ukrainian teenagers from Kyiv. You can read below a reflection written by Nicole Katenkari on life-changing times.
Text by: Nicole Katenkari
September 2022
---
The program of the Teen Art Club was designed with the thought of recreating totally lost safe space, life as we knew it after the full-scale invasion of Ukraine broke out on the 24th of February 2022. Virtual meetings started in mid-March and lasted until early June.
Warm and trustful relationships had already existed within the group. Participants — all eight are 15-17 years old girls in high school — knew each other and me from Kyiv. The majority had recently graduated from the Youth Council — an educational program which I had been curating at Mystetskyi Arsenal. The rest consisted of their invited friends. I viewed these meetings as a source of restoring a sense of normalcy and rebuilding the routine. It was relevant for both parties personally and professionally.
During the initial merely informal conversation, teenagers shared their stories of escape and refuge, the most missed and valued things in the new circumstances, elsewhere far from home in Kyiv. This honest and unexpected sharing unveiled the urgent need to be in a receptive, supportive environment. Eventually, Teen Art Club arose as an opportunity to go through disturbing times together, shift at least an hour per week from the daily war agenda, however, without ignoring it, to the different topics, using art as a tool for thinking and processing.
The group contributed to the Teen Art Club program with the topics that worried them the most in those first scary weeks of the war. These were emotional reactions and priorities, their changes in wartime, the idea of the future questioning its existence and form, cultural identity transformations, intersection and interplay of war and art. Together with colleagues from Framer Framed, particularly with Isabella Giacomelli, an intern of the education team, we tried to give all of these reflections a place in the Teen Art Club program.
Each session had a similar structure. It started with one group participant introducing her favorite artwork, continued with the conversation around the chosen topic, and after presenting archival project(s) and/or highlighting art pieces from the Ukrainian and Dutch contexts followed an explanation of the next assignment. Tasks mainly consisted of thinking routines helping to develop, and conceptualise ideas. For example, in one of the themes, 'Amulets and Artifacts', the group was invited to think about and present a personal object with a special meaning attached or created by the story behind it. Teenagers chose, for example, a necklace as a friend's gift, a grandma's scarf, a wooden stick that reminds of summer campfires or picking a pair of socks with a famous painting on it as a ritual. Everything happening during the class was aimed toward support of the ideas and maintenance of the creative flow. One of the tasks which we as educators set for ourselves was to provide space for everyone's opinion, and make it heard and valued. Later, one of the participants pointed out: "Teachers were part of our group. I didn't view them as a typical school-type teacher…" which indicates the organic nature of our interaction.
Summarising the whole experience, it is fair and sincere to say that discussing art, thinking, and generating ideas — the process — was prior to the concrete results of the program. The initial decision to talk about art, to use it as a medium for processing and reflecting on the current traumatic moment was right. One of the girls wrote: "For me, personally, it (to see and talk about different artworks) was kinda therapeutic as well as inspiring".
The same applied to me. Overall, my residency at Framer Framed with the Teen Art Club project was a great sublimation tool and relief. While mentally always being in war, it was priceless to be physically present in professional settings, feeling accepted and treated as part of the Framer Framed team. It helped to gain a sense of belonging. Belonging to the field where openness and work with and for the community, freedom of choice and right to be wrong or fail without a judgemental attitude, and creativity encouragement are universal principles in the cultural-educational institution regardless of geographical location. One of the reasons I 'resided' at Framer Framed with such a pleasure was knowing that we share common ground despite distant backgrounds
Conflict
/
Eastern Europe
/
Educatie
/
Politiek Klimaat
/