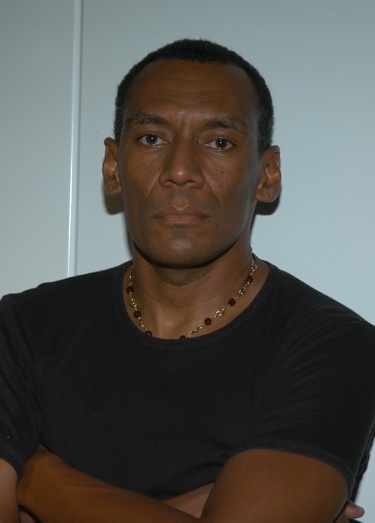 Tirzo Martha
Tirzo Martha (b. 1965) is an artist who creates installations, videos and performances. He was a participating artist in the Kunsthal KAdE group exhibition Who More Sci-Fi Than Us? contemporary art from the Caribbean, curated by Nancy Hoffmann. Martha presented his work at the talk Close Encounters of the Caribbean Kind, organised by Framer Framed and in collaboration with Kunsthal KAdE. 
Tirzo Martha started his education on Curaçao at the local Academia di Arte Korsou in 1985. From there he received a special grant to study in Utrecht, The Netherlands, at the Hogeschool voor de Kunsten where faith – as he puts it himself – brought him to move towards fashion design. He was exceptionally good at this, even though his first love still was in the fine arts field – and in 1989 (until 1991) he was selected to follow up on his education at the private Frans Molenaar Fashion School.
In 1991/1992 he decided to turn around his career and went back to his island of birth, Curaçao, to develop himself as a socially engaged artist that divided his time between his studio and street projects, public interventions. This brought him to his current mode of working with installations, videos and performances that are very close to the living conditions and structures of the people. A big chaos consisting out of objects, materials and emotions are brought together in a baroque mold: a rough composition carrying the beauty of the people's hopes and dreams.
He is also a co-founder of the Instituto Buena Bista – Curacao Center for Contemporary Art and exhibited his autonomous work and public interventions in the US, The Netherlands, Germany, Portugal, Curacao, Martinique, Santo Domingo and Cuba.
---
Agenda
Close Encounters of the Caribbean Kind
Artist talk around the exposition Who More Sci-Fi Than Us?
---
Magazine