Ohad Ben Shimon
Ohad Ben Shimon is an artist, writer, researcher and educator based in Amsterdam. He is a graduate of both a scientific education program (BA Cognitive Sciences and Psychology at The Hebrew University of Jerusalem in 2005) and an artistic education program (BA Photography at The Royal Academy of Art in The Hague in 2009). He has been awarded several grants (Can Serrat Writers Support Stipend, Stroom Den Haag Research & Art Project Grants, Fonds BKVB Pilot Project).
Ohad Ben Shimon has participated in exhibitions across Europe among others: Documenta 13 in Kassel, Making Use at Van Abbemuseum in Eindhoven, It Has Begun at Printroom, Rotterdam, Sugary Photographs at Fotomuseum Antwerp, Donner du Temps au Temps at Espace des Blancs-Manteaux in Paris, Escrita Na Paisagem Performance Festival in Evora, Portugal. 
At Framer Framed Ohad Ben Shimon was a participating performance artist for the three part program of Voice-over Noord  (2015), organised by Framer Framed to accompany the exhibition Crisis of History #3: Beyond History, curated by Robert Kluijver and Elham Puriyamehr.
He has been an Artist In Residence at Can Serrat Artist Residency, Spain and Obras Artist Residency, Portugal amongst others. In September 2013 his first book titled 2 blue cups on two different corners of the table was published by VerySmallKitchen exploring the meeting place of autobiography and fiction, introspection and performance, experience and commentary, through unfolding processes of attention and its notation in words.
Ohad Ben Shimon is currently a senior lecturer in Business Communication and Critical Thinking / Researcher Change Management at The Hague University of Applied Sciences and following his Research Masters in Cultural Analysis at University of Amsterdam (2018-2020). He is also an editorial board member at Soapbox – Journal for Cultural Analysis. Departing from a background in Cognitive Sciences, Psychology and Art Shimon's work explores the relationship between individuals and their social environment forming a typology of another place, both internal and external. 
He contributes regularly to various on-line and printed publications such as Very Small Kitchen, Editions Clinamen, Rong-Wrong, Circa Contemporary Art, Time To Meet Publications, PhotoQ and Mifgash Magazine.
---
Exhibitions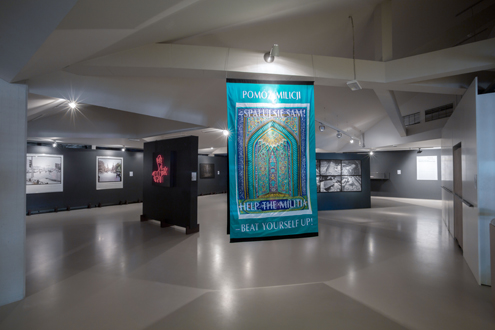 Exhibition: Crisis of History #3 - Beyond History
Curated by Robert Kluiver and Elham Puriyamehr
---
Agenda
Voice-over Noord
Performances and bustour through Amsterdam Noord.
Program surrounding the Crisis of History #3 exhibition
During the exhibition Crisis of History #3 - Beyond History there will be a special event on every Tuesday night with film screenings, lectures and guided tours.
---
Magazine